Reading Time:
6
min
These winter holidays I stayed in Saanen, Switzerland at a family home I've been going to my entire life. During Christmas a bizarre heatwave sweeped through northern Europe, it was the warmest December I could remember with record-breaking temperatures in almost every country. I hiked under the balmy sun and could feel wildlife confused by the seemingly early Spring weather. Should they emerge from hibernation, what happened to winter?
There's a glacier near the town that has been receding in front of our eyes at a not-so glacial speed. As I hiked, I looked up at it and wondered how it's fairing under the sun. Switzerland is the country with the highest number of glaciers in the Alps, over 1,400. The Swiss have been known to cover them in blankets in the summer in a desperate attempt to slow down the rapid melting. Should they start covering them in winter too? I hope it's just an abnormal heatwave.
Usually, during the day we're out skiing, but this year it rained most days. Daily temperatures reached 8°C, nowhere near snow levels. So when the forecast started to change in January and a friend invited me to higher altitudes, it seemed like a good time to take the skis out of retirement.
I met Gilbert Crettaz on a wonderful snowy day in Verbier, my friend had hired him to show us around the area. We woke up early to hit the slopes first. It was the first big dump, so we were elated to have come up just in time for the first big snowfall. Gilbert is exactly the ski guide you want, trustworthy, upbeat and knowledgeable, a true local that knows every nook and cranny like the palm of his hand.
"My dad was a mountain guide in a very small village of 80 inhabitants, 1,800 metres above sea level, my mum was an adventurer and she was from Luxembourg, she never wanted to get married, she loved the mountains, she traveled a lot, Austria, Switzerland. One day in the Luxembourg library she found a book about a village called La Forclaz, she said to herself in 1968 i'm going to spend my holidays up there. She went up there to do her vacation, and then she wanted to climb La Dent Blanche. She was looking for a guide, and came across my dad."
Gilbert was brought up by real alpinists in a small farming village called La Forclaz, in the middle of Switzerland. The town is surrounded by two glaciers, Ferpecle and Mont Miné. It was separated from the rest of the country until 1970 when a road was finally built. The locals still speak their own dialect, and up until the 1970s the community relied entirely on subsistence farming. Gilbert remembers his grandparents not needing money, and recounts stories of elders worried about glaciers advancing rather than receding.
"There used to be plenty of places where the glaciers advanced, and where there were buildings people were very very afraid. People would pray, as they thought that the glacier was the devil and made processions praying that it would recede and not take over the town."
Most glaciers in Switzerland have been receding for the last 100 years. In fact, all of Switzerland's glaciers have shrunk by more than half in the last 85 years. Research warns that all Alpine glaciers are at risk of disappearing by the end of the century, and Switzerland has already warmed by 2°C compared to pre-industrial levels.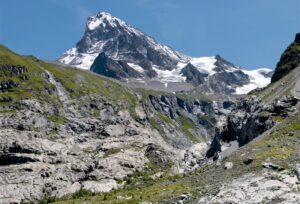 Growing up surrounded by glaciers, you could easily argue that Gilbert has more snow in his veins than blood. Mountain adventures define his childhood. Sometimes in the middle of winter the snow would be so deep that he and his brother would have to trudge 40 minutes to get back home from school.
"That was my childhood in a small village, we had no school, the village was too small, so we went to school in another town that was a 15 minute drive. Sometimes there was so much snow in winter that the street was cut off and then we went down on foot, and in the evenings we walked back up. Our upbringing was simple, we didn't have a lot of things but we had nature and we had a lot of freedom."
Every day he skied, the town was small, it didn't have a school but of course it had a ski lift. His brother eventually made it to high competitive levels, whereas Gilbert turned to snowboarding, becoming the first snowboarder to attempt some of Switzerland's steepest descents. From a young age his father's Alpine passion compelled him, and he joined him on the world's most renowned and difficult climbs too.
"I always saw my father go up the mountain, and was always curious to know what was up there. I saw him leaving with a smile with the customers, and when he returned from the Dent-Blanche or the Matterhorn, he was tanned, fit, and extremely happy. And I said to myself, I'm very curious about what's going on up there, it must be very, very nice. And that's how I started to go up the mountain with him."
At 18 he attempted the notoriously difficult Swiss alpine course, he didn't have enough experience and failed it. So off he went and got a degree at a hotel school in Lausanne, but by the time he turned 22 the call of the mountain was too strong, so he used his savings to return to the peaks, embarking on years of adventures that he remembers as enjoying life to the fullest.
"Frankly, when you are 21 to 28 years old and your life is paragliding, mountain climbing and snowboarding with friends, it's just the holy grail, everything is oriented around pleasure. In those years I just enjoyed life. Even though I was having fun I knew that I was also investing in my future. And when I passed the Alpine Guide exam, it was the achievement that has brought me the most pleasure and satisfaction in life."
By the time he turned 30 Gilbert was a certified snowboard instructor, paraglide teacher and Alpine guide. He traveled all of the top mountain destinations with clients, from Zermatt to Chamonix but eventually settled in the charming town of Verbier, where he later opened the center for guides.
I ask him what memorable moment comes to mind from his 30 years of experience criss-crossing the Alps.
"Once, a gentleman arrived at the top of the mountain, on the Dent-Blanche, and he was so happy, he was sweating, he had tears… he took me in his arms, and he kissed me on the cheeks. He was so overcome with emotion, that I got emotional too, he was so happy. It's incredible, I felt good, he had climbed many mountains, it was his last 4,000m peak. He was 65 or 70 years old, it's quite difficult, and he was so happy, so moved. It was not extraordinary for me, but it was the emotion that I had shared with this person that I still recall."
His story reminds me of a term I learned studying philosophy, the sublime in nature: the feeling you experience when you encounter nature's vastness. Those moments when an overwhelming force overcomes you and your mind goes blank, dumbfounded by nature's magnificence and beauty. You feel small, yet protected, as though you are finally aware that you are part of its web too.
Gilbert is an optimist at heart, but of course his years roaming the Alps make him also a witness to the harsh realities of warmer winters too.
"I am not a glaciologist, but everyone can see that the glaciers are retreating, it's been over 100 years since they began to melt and now there is an obvious acceleration. What I can say is in relation to my job. The difficulty occurs if mild temperatures persist in the mountains then the snow that covers the crevasses softens, and if it becomes too soft then it's really dangerous. If you walk on soft snow and there's a crevasse under it, you might fall in it. And if I fall it becomes very very complicated, it becomes dangerous. That's something new, we didn't ask ourselves these questions until about 10 years ago. Before that, at night it froze, in the morning it was hard, not always, but in 90 percent of cases we had good conditions."
Alpinism, already a sport reserved for adrenaline junkies and risk takers, is upping its stakes, forcing guides to take precautions they never had to before: avoiding glaciers on the routes, shortening the season, and taking only well-trained people.
"For a few years we have had a lot less freezes at night, and we have a lot more accidents, which we certainly haven't had before. This year, at the beginning of July, Mont Blanc closed due to falling rocks, glaciers melting, crevasses and all that, and so now we are preparing for this summer. I think we'll avoid the warmest days from mid-July to mid-August, then we stop as its getting too hot, and we resume in late August when the sun is still a little lower until September, October. I had to modify a lot of routes with clients."
Worldwide glaciers are disappearing at alarming rates, from the Himalayas to the Alps and the Andes. Last summer in Europe, mountain refuges closed due to drought, some even fell down the slopes with rockslides. For the first time, Mont Blanc was closed to avoid fatal accidents and six lives were lost when a glacier collapsed in the Italian Dolomites. As the planet warms, once familiar landscapes are transforming and becoming dangerous. It's time we listen to these cries from the mountains.
Isabella Cavalletti is a storyteller and co-founded eco-nnect.
You might also like this story: The Humble Way