Reading Time:
18
min
Luc Marescot has been on a quest.
"When I was around seven, my father came back from Antarctica, he was the helicopter pilot of the French polar explorer Paul-Émile Victor. My father used to attach a Super 8 camera to the front of the helicopter, so he could record and return home with some pictures. When he came back from his first trip to Antarctica, we had a lunch, I was around seven years old, and during the lunch he pulled out a screen and projected the pictures (makes a film wheel whirling noise) like this, no sound, just the pictures with some hair here and there. At the time there was no internet, and there wasn't television at home, so the only picture of the world I had were some photos from books. And then what appeared on the screen was like a big vast space between icebergs, because the helicopter had to go from the boat to the French base in Antarctica, Dumont d'Urville, which they were building. And I realised this landscape was magic I had never seen before, and I think from that point I was kind of curious of, wow, further than the horizon line there are some magic worlds to discover, and I kind of stayed with that childhood quest from there, because I always wanted to see what was next, what was further than the horizon."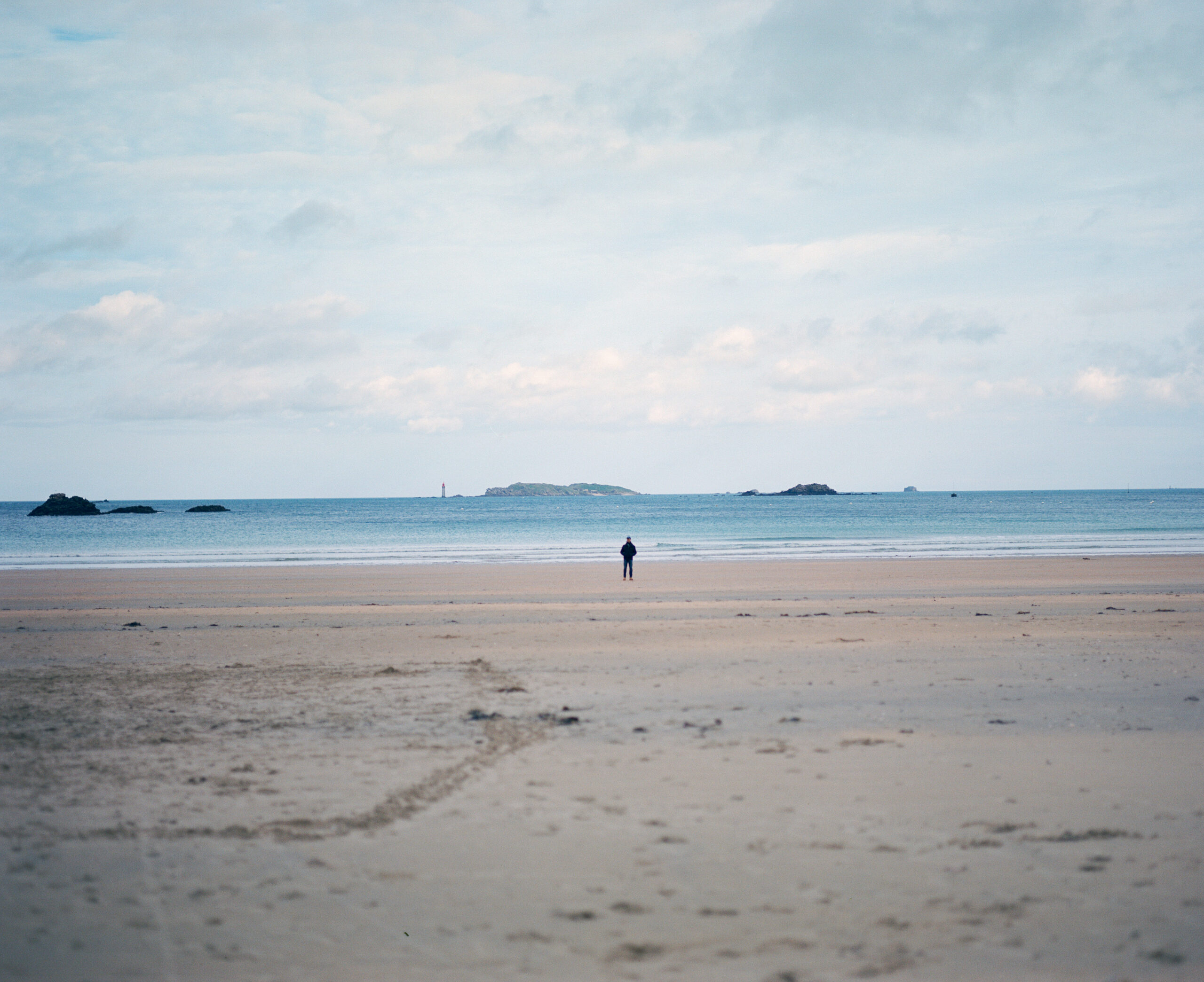 This quest has lasted his entire adult life, Luc has always chosen the path of adventure. During his university studies in economics, he met a friend who would later become a travel companion: "we had read the same book by a guy who left on a journey hitchhiking, and spent eighteen years hitchhiking around the world with some jobs here and there. I loved that book, and I said to my friend we're going to do the same, we're going to travel the world on that same quest." Luc understood speaking English would be key to this quest, so after completing his university education, he worked for a year and a half giving French conversation tuition at St John's College in the University of Oxford. It was after this experience that he started travelling to the horizon. 
"We went away and we stayed for like eight months in Europe, hitchhiking, going from one job to another. We picked olives in Greece, we cleaned the boats in some ports… we got a few jobs here and there, just to pass by, and we went all around Italy, Yugoslavia, Austria, many different countries. And then we went back to France to earn a bit more money… We got enough money in three months, so we went to Africa, hitchhiking for another seven and a half months."
They set off from Bordeaux, went down through Spain and onto Morocco. They tried to travel to Mauritania, but it was during the Polisario Front, so they flew to Senegal, exploring the country before travelling to Mali, Niger, Burkina Faso, Togo, Ghana, Benin and the Ivory Coast. "Hitchhiking was pretty difficult in Africa. Most of the time we would go to a petrol station and ask NGO cars or trucks for a ride. I remember one time we did 700 kilometres in a truck that carried big packets of rice. It wasn't allowed to have strangers on board, but for the driver it would be extra money, so you would see all the bags of rice, but you take one bag away and there is a corridor you can squeeze in and sit, it fit four or five people."
It was 1985 and 1986, they didn't have much money, they would sleep under bridges or on the side of the road, sometimes they would connect with a local and stay at their house.
"Every day was a new adventure, we didn't know each morning where we would sleep at night and I loved that. Even today I have a hard time to plan my holidays, to give a fixed date when I depart and when I arrive, it's against my nature."
These experiences were formative for Luc, pre-empting his long career as a documentary filmmaker. He has worked on over 70 documentaries all over the world, with nature always the protagonist. This career, another adventure, began when he returned from Africa.
"I was taking notes on the African trip, so eventually I wrote a story of what we had lived… I went to Paris and I thought, okay I've written up the story, what do I do with it now. I went to a magazine seller and asked the guy, I say I don't have that much money, I need to take the phone numbers… So for like 20 minutes I go from one magazine, okay number this, and then the other magazine… And then I go to the phone box, no mobile at the time, and I call all the newspapers and magazines, and the first one that says oh maybe you can come over this afternoon if you want, it was called VSD, it was a big travelling magazine at that time… So I go there, I go up the stairs for an appointment with someone called Camille Scoffier… The stories of that magazine at the time was more about the photos, the text was secondary. She looked at my photo, but because the rolls had spent eight months in a backpack, when we put them for development everything was kind of yellow, burnt by the sun, so they were not publishable… So I leave the building, and your life sometimes counts on only a few seconds, because I was on the pavement and I had nothing to do after… If I had an appointment with a friend or anything else to do, I wouldn't be here today, because what happened there I said okay, I showed them the photos and they didn't go through, but what about the text?"
These moments of chance or fate are often a key feature of the stories from Luc's life, reflecting the strength of his intuition.
"So I went back up, went to the same journalist Camille and I said, can you have a look at the text, just to find whether I have to push on that writing or whether it's not good at all and I should think of something else. Then she reads the paper and looked at me and says does the journalism interest you? And that question came from nowhere as I just wanted to sell that story to get some more money and do something else. And of course I say yes — the lie, the bluff that you do when you're young — yes of course, that's why I wrote it."
This exchange resulted in a meeting the following day with the magazine's Editor-in-Chief, and though Luc was excited, he immediately thought how a job may get in the way of his adventures, as a friend had invited Luc to assist him with work as a surveyor in the Caribbean. The Editor-in-Chief offered Luc a paid, three month trial, which would lead to a role at the magazine. "I told him okay this is very nice, but actually as journalism is what I really have in mind — a big bluff again — I had planned to go two months in America to see how the American journalist do, just to improve and find out how they work. And he said yes, but if you go then we may find someone else. And I said okay, I take the risk."
So once again Luc chose the path of adventure, and he got a job on a boat that left from the coast of Brittany. The boat travelled down to Portugal, to Madeira and onto Canary Islands, before crossing the Atlantic Ocean. He arrived in Martinique and then continued to Saint Martin to meet his friend. He worked two months as a surveyor, going from island to island in small four-seated planes, working throughout the Caribbean. Just before returning to France, he called the Editor of VSD to continue his bluff. "I say yes okay it has been great, journalism is what I want to do, I've learned so much in America," but the magazine found someone for the role. "So I say I am coming back to France anyway, either I go to another magazine or you let me do a trial there, and because of my conviction and all of this he said okay come on board. So I went there for an unpaid three month trial, I knew it was something not to be missed."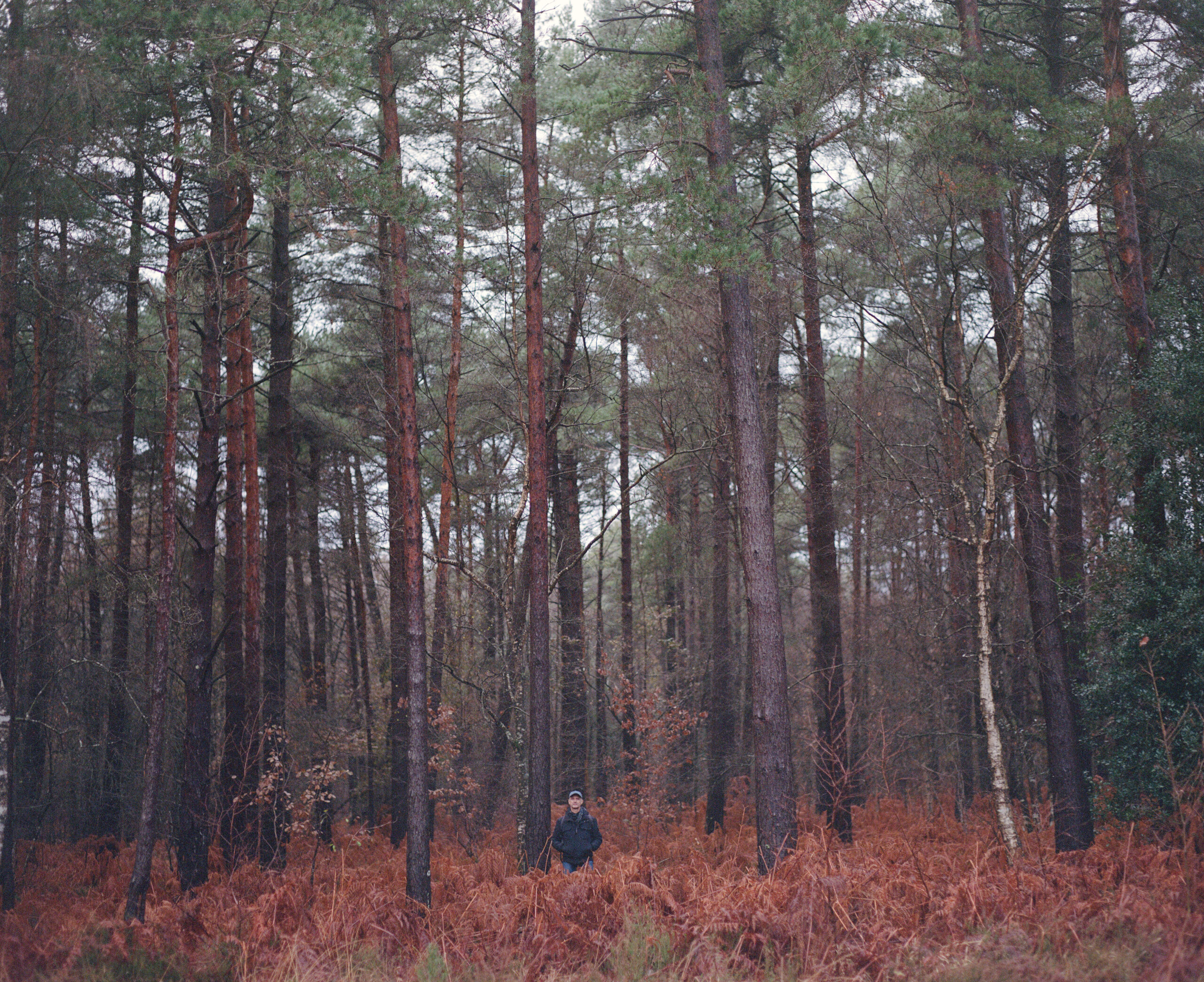 The role wasn't as hands on as the one previously promised, "I was just helping, making coffees, making photocopies, oh I need this article from this newspaper. But because there was another guy," the one that took the job he had been offered, "I had to be on top, so I lived in the magazine for three months, I was there at seven in the morning, and would stay there 'til midnight. I arrived with the first journalist and left with the last one, I came in on Saturdays, on Sundays, I was always there, and I loved it, it was a new experience… it was exciting for me." 
Once again, a moment of fate or luck emerged. "It was on a Sunday at the magazine, the phone rings, I pick up the phone, hello da da da, and it was the big president of the magazine François Siegel and he says Luc, is anyone around, it's Francois the big journalist of the news. And I go no, nobody is here at the moment," again it was the luck of that time, "there was no internet and no mobile, so the President couldn't reach the journalists he wanted. He said I can't find anybody, nobody is at home, so listen I've got an exclusive interview with the two people who led the Rainbow Warrior Operation."
For those of you who don't know or don't remember, the Rainbow Warrior was part of the Greenpeace fleet of boats that campaigned against whale and seal hunting in the 1970s and 80s. It was also involved in protests against France testing nuclear weapons in the southern Pacific Ocean, near Mururoa Atoll. In response to the Rainbow Warrior's focus on France's operations, French foreign intelligence officers attached mines to the boat while it was docked in Auckland, eventually detonating them and sinking the Rainbow Warrior. The operation was led by Dominique Prieur and Alain Mafart, and Luc conducted their first interview after their trial.
"François told me to go to his desk, this is the code, you open the drawer on the left, you have a file, you read all this and be ready in two hours. I go, I read all the paper, I've never read so quickly, I take notes and prepare my questions at the same time. Ding dong, military arrives with the couple, and I do the interview, the people go, I write my paper, I write overnight, I was so excited, and then the President calls me and says great paper, and then it was on the press the day after, and all the French press focused on the interview, my name was there on all the big TV news, article by Luc Marescot, it was on the radio, it was crazy. So that same day I went and got a case of champagne, 12 bottles, and took them to the newspaper. It was my way of saying now I am in your team, I am one of you."
Luc was offered a job, working as a reporter at the magazine for the next two years. He travelled the world following sport, adventure and travel stories — "it was a very nice time" — yet despite the job supporting his explorations, when a friend invited him to join for another adventure, he couldn't say no.
"I met a guy who wanted to go around the world for two years with two antique cars. I liked the guy, the way he was talking about this trip, and so I said your story is nice, maybe I do an article in the magazine. So I did… and then one day he saw me and he asks do you want to leave with us, you should come on board." By this point Luc and the guy, Eric Massiet, had become close friends, so the invitation wasn't a shock, "it took me one day to decide. It was like something bigger than another experience, so I said okay I am coming, I will quit the magazine and follow you. And my friend, my family, my parents, everybody, they said you are crazy, you have one of the nicest jobs ever, you've got a good salary, you travel everywhere in the world, but I say yeah, this is more freedom… I want to put risk on this… I had this crazy intuition that this was the path I had to follow." Luc quit his job "on very nice terms" and in July 1988, along with Eric, Yann Vrignaud and Thierry Barbier (who was later replaced by Toff Hermenier), he set out in two antique Citroëns on a two year journey across the world.
"We decided to start from Canada and America, because if any parts go wrong on the cars, it was going to be easier to fix that in North America than if we start let's say in Africa or somewhere. So we sent the cars in containers by cargo to Halifax, Canada and started from there. We drove around North America, through Central America and South America, we then shipped the cars to Australia, and from Australia we went to Singapore, Malaysia and Thailand. We tried to enter China but they forbid us because we couldn't get across the border with our personal cars, we couldn't get in Burma for the same reason, so we had to go back to Singapore and then ship the cars to India.
"We toured in India quite a bit, we loved India, I mean it was such a shock, especially coming from Australia, Singapore and Malaysia… it was incredible. Then we tried to go through Pakistan, but it was forbidden at the time," due to the political situation, "so we drove back to Bombay and we shipped the car to Kenya, Mombasa. We then drove through Uganda, Rwanda, Burundi, through Zaïre and Belgium Congo — or so they were called at the time — then to Gabon, Cameroon and Nigeria… Some friends came to join us for Christmas in Benin, and some of them stayed with us to drive back through the desert… Niger, Algeria, Morocco, Spain and then finally, France. And I think that everything I did in my life really started there. Of course there was the hitchhiking tour in Africa and in Europe, but that expedition was really the beginning of so many things that happened afterwards. 
"It was when I started to understand the humble way… We met so many extraordinary people living in the bush, living in the deep forest, not making any noise, just being the most extraordinary people I could see, for me so much wiser than the people I would see in the city calculating about their retirement, calculating about their investment, calculating about all that. I don't know about the percentage, but most of the beautiful people I met always had a big connection with nature. I understood that already when I did that hitchhiking trip in Europe and in Africa, but at that time I was more a crazy young guy who wanted to have experiences, I was not so much on listening, I was on discovering with my eyes, oh yes this is this and this is this, but not so much listening. We had also turned this world trip into a press experience, we created the statue of the travelling press agency, and we became affiliated to Gamma Agency in Paris and with many different newspapers, so we are there travelling to listen, not to just absorb." 
While he continued writing throughout these two years, Luc also put emphasis on his photography. "I was already keen on photography, but when we were starting for the world tour I thought it was a good opportunity to make that step", and this step led to the next iteration of his career, into documentary filmmaking.
Throughout the tour they had friends join for parts of the journey. One of these friends wanted to do a film about the group's travels, "he had no producer or money, but we loved him as a friend, so we say well whatever, some of our money can pay your plane tickets and then you come over and we will eat more pasta". So he joined for two or three weeks, and then he joined them again, and again, joining them seven times to film different parts of their travels. He eventually attracted interest in the story and a popular television program, Ushuaïa de l'Extrème, agreed to share it. The show was broadcast on French television for almost 25 years — it was later renamed Ushuaïa Nature — supported by its large devoted audience. "It was like seven, eight million viewers every Saturday, big show, I mean you don't get this audience today except for the World Cup Final, and they did three stories on us… When we came back Nicolas Hulot, the host," who eventually became the Minister of Environment in France, "he liked the way we travelled around the world, so he invited us to his place, we had dinner, and then I did another bluff, I say Nicolas I am a camera operator, maybe can I join your team? And so Nicolas says the team is already settled and so there's not so much hole to fit in, but maybe one day we take you for trial and we see from there."
A month and a half later Luc received a phone call, "they said we are going to the Canary Islands, they invited me on board for a trial as part of the camera support team and I knew, like a few times in my life, I knew that this moment I can't mess up." So Luc rented the camera the team used and he focused a full weekend understanding how to use it. "I called some friends of friends that knew the camera to help me out, I wanted to get hold of how to handle the camera," and then he went to see the program director, "and I asked him what do you want, what is your idea, how do you want to tell the story da da da." The story focused on Nicolas, the host, travelling with a scientist across the Atlantic in a hot air balloon powered by a bicycle. "I thought of camera shots that would be special, I had written a list of 30 shots that were different from the usual shots that the team was doing, and nearly all of my 30 shots were used. So I went on to do camera work for all of the directors of that program, and then it was great because I could visit all the continents of the world. We went to many many different places, and there was money to do a proper job."
Luc eventually became one of the directors of Ushuaïa Nature, working on the program for 22 years, while also creating his own documentaries on the side. It was through this work that he became deeply connected to the natural world, forming a relationship with the different biomes he regularly visited. "We would say let's go back to that place, it was so beautiful, and we have better technology now to film it better. So five or ten years later we would return to a place, and we would see the damage that had been done, because of climate, because of drilling, because of tourism, because of so many things. At first we were not ecologists at all, we were just having fun travelling around the planet, enjoying beautiful nature, remote places and all that, but slowly we became conscious of what was happening to nature, and it was getting worse and worse."
This shift in consciousness emerged in Luc at the turn of the century, "it was around 2002," when he was on an assignment in Greenland. "I was working with Jean Jouzel," the President of the Intergovernmental Panel on Climate Change (the IPCC), "and we shared three weeks together in Greenland, we even dug our office, the place that we worked in the ice. There was a dome on top of it for a sleeping part, but all the work was done under the ice… It was minus 32 in that office. I remember because when we wanted to film in there… we had to take all the cables for the monitor, for all the equipment in our coats… and in less than 40 seconds the cables would be frozen and you can't move them anymore, so it had to be very quick from the time they are still warm under your coat to when you placed them in the space… And it probably started there, every time we would go to places we would see the damage done to nature."
Through his work, and meeting people like Jean, Luc developed a deep understanding of what was happening to our environment. "Jean Jouzel said we can't even say what's going to really happen because otherwise we are going to create a panic in the population. We are currently experiencing what he shared with me 20 years ago, and he said this is going to be exponential, first bad news will appear and then it's going to be like a domino game. He said this in, it must have been something like 2002 or 2003, like 20 years ago, and he told me we won't be able to tell people because at first they won't believe it."
Luc didn't need convincing, he was seeing it with his own eyes. He had travelled to Botswana to film a pack of flamingos, "we had arranged everything, we went like three months ahead, okay all the flamingos are there, in their nest, and the fixer" — the local contact who helps organise filming in the place they plan to film — "he told us to come on the 10th, because usually these things can be followed like a clock. So he goes to check on the flamingos on the 8th, at the place where we were supposed to film, and we get a message saying we've got a problem, the birds have gone. And you go what the hell, because Ushuaïa was a one million Euro program, we were a team of like 15 or 18 — the biggest team I had was 26 — you're dealing with a big machine, and at first you don't even want to tell the presenter. So you have your confidant and you say what are we going to do, because the whole thing, the whole story is about flamingos and they're all gone. So there are two feelings: there is the worry for your job, what to do, and then the feeling for nature, which is fuck we have to do something to tell the people what's happening in the world. Remember it's 20 years back now, nothing compared to what we live now. If you say that now people say yes we know, but 20 years back, people just didn't care. I remember through that time I would bore my friends, because the only topic I wanted to talk about when I would come back from filming was this… I remember so many discussions who didn't believe how quick climate change was coming up, so I felt a lot of sadness, deep sadness, and like what can we do for that? Even talking with your friends and family and film directors who were working on other topics, nobody would really believe what was happening was that bad."
This difficulty in communicating the severity of what he was witnessing inspired a shift in Luc's filmmaking. "The flamingos have nests that are like 20 centimetres high, it's like a round thing like a cake and there were tens of thousands of them all empty. So we said okay lets make the presenter walk around this place… and it's like him walking through a ghost city… and then we presented the opening monologue of the show, he was in the middle of the flamingo area and they've all gone, and there are only a few babies left that will die of heat, and so we start with a more dramatic moment explaining what happened.
"I think every time for the last 10 years," the program stopped filming in 2011 but was last screened in 2014, "I think the last 10 years of the whole show, every time was like this, look at the beautiful nature it's disappearing, look at beautiful nature it's disappearing. And so we started by doing those, working for Ushuaïa Nature, which was still like look at the beauty of nature and the presenter, Nicolas, his motto was if people love something they will want to protect it, and we all trusted this, if they love something they are going to protect it, but it doesn't work. Over the years it didn't work because we made them love so many things, but they didn't have tactile contact with those places, they looked at that through the window of a television, and when they switched off the television, they are back in their own territory, their own land."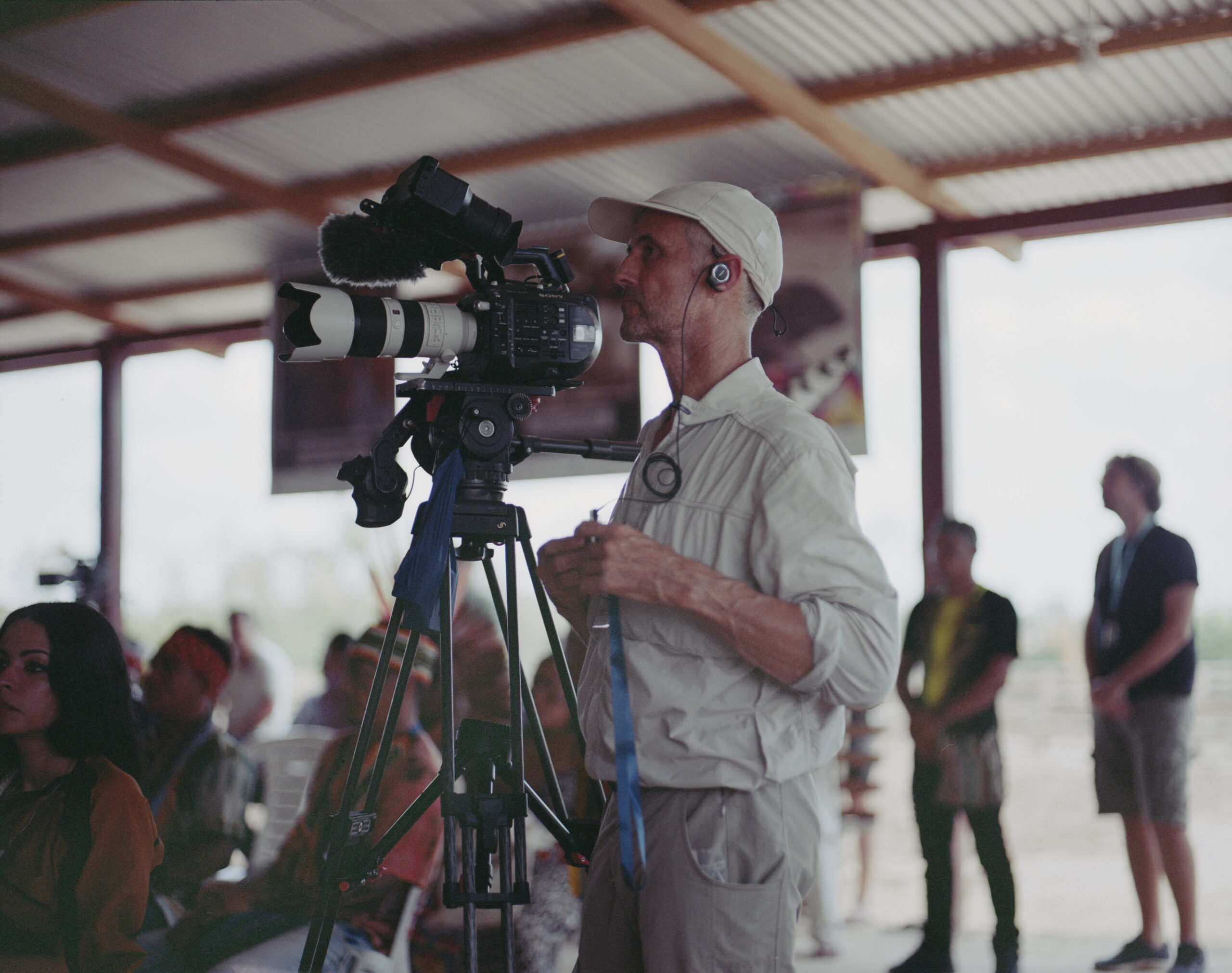 When he finished his work on Ushuaïa Nature, Luc focused on his own films. Knowing this emphasis on beauty didn't work, he tried to focus on destruction instead. This style is what Luc calls "anxious films", and he was part of a wave of directors who focused on communicating climate change in this way. "Through working with scientists we were like hey we have to tell people, so you give all of this bad news about the destruction process and it doesn't work, because people turn their head. And I think that's because we forget what we are, we are apes, primates, and if you look at the big apes, our cousins, how they evolve, they only progress by imitating what has been learned from the parents. So that means you only progress being apes by solutions shown going forward. So we have a problem, we should have TV shows of good solutions, TV shows of hopes, good news, so people will maybe have the door open to where to go, but we are building a wall of bad news and we don't know how to cope with this."
This focus on solutions connected Luc with forest guardian Mundiya Kepanga, a Papuan leader from the Tari region in Papua New Guinea (pictured below with Benki Piyãko), to create the film "Brothers of the Trees" in 2017, which he co-directed with Marc Dozier. It focused on the deforestation imposed on Papuan forests by illegal loggers from Malaysia and China, following Mundiya as he tries to understand where all of the trees are going. The film gave strength and notoriety to the Papuan Chief and inspired the Papua New Guinea government to restrict illegal logging in their territory, which led to a reduction of illegal logging sites from 300 to less than 50. Luc attests that "the documentary itself didn't do this, but it was at the start of the domino effect that led to this". It also led French television network Arte, the producer of the film, to decide to make more films with other guardians of the forest, seeing Luc travel to the Amazon Rainforest in September 2022 to film Benki Piyãko, a spiritual and political leader of the Ashaninka people. Luc documented Benki's work at the Yorenka Tasorentsi Institute, near Marechal Thaumaturgo in the Brazilian state of Acré. This film is one of five documentaries that Luc worked on in 2022, a busy period that has given him the space to focus on a project he has been nurturing for the past two decades, a feature film called "The Botanist". 
"In the early 2000s, I appreciated documentaries were seen by people who are already convinced, who already want to protect our habitat, and I thought that to reach new audiences, change will come more from emotions than arguments. Emotion is the way for people to change their behaviours… people move when emotions change their way of thinking. It's like, let's say you have one guy from the right, one guy from the left wing, and they are at a family dinner or an office talk, they are going to offer all of their arguments, then they leave each other, they go home back to their family, and they haven't changed what they think of the thing they argued. But if one of the two guys has a personal story, it will move the other guy, there can be an understanding." This thinking inspired Luc to focus on fiction. "I think that feature films, cinema, has more power to bring emotion than documentaries, even if some documentaries give great emotions, but the natural way for people is when they look at Netflix, they're looking for stories away from their life, they want you to tell them a tale, to scare them, to entertain them. So for me, the feature film has more power to create change."
It's his attempt to do what he can. "I don't feel myself the saviour of the world, I just desperately want to do my share." It's all any of us can do as we move towards an unknown horizon.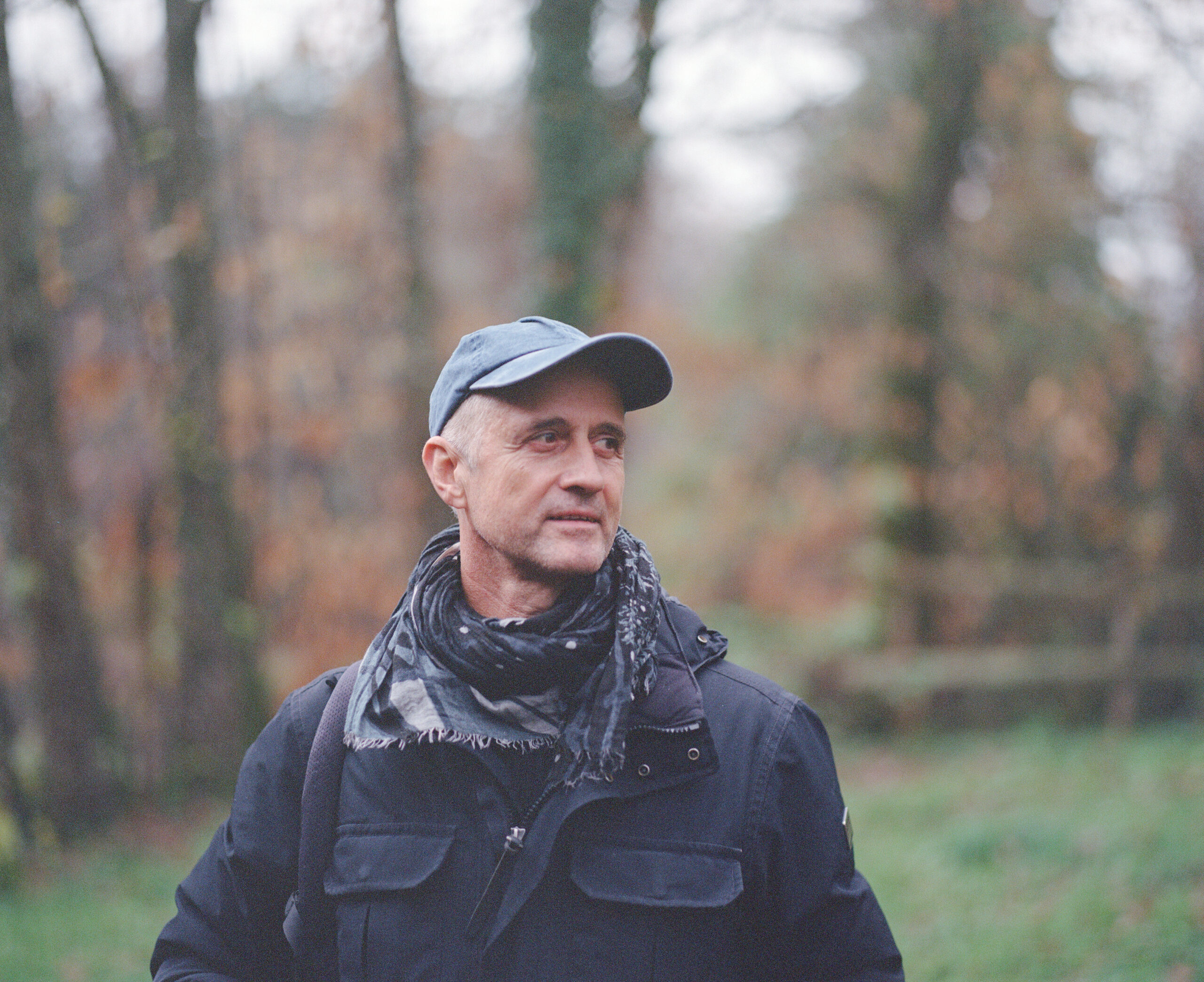 Anton Rivette is a writer and photographer. He leads storytelling at eco-nnect.