Reading Time:
8
min
Earlier this year on a warm May morning, I volunteered with a friend, Cesare, at the Ortobioattivo farm, in Bellosguardo, a town a stone's throw away from Florence. Every Monday morning, Cesare volunteers with the NGO Fili d'Erba, which takes care of children with disabilities. At the Ortobioattivo, Andrea Battiata the founder, teaches the children of Fili d'Erba how to grow their own vegetables, which they then sell on Thursdays at a farmer's market in central Florence.
That morning, after tending to the garden with the kids, Andrea showed me around his farm and offered me a sweet strawberry that was circling around the hedge that held his biodiverse vegetable garden.
"I am Sicilian by origin, I lived my first twenty years in Trapani, in Western Sicily. And perhaps my propensity for good food derives from these origins, because in my family we ate very well. When you got up in the morning everyone's first thought was what are we eating today? And then our day revolved around the meals."
Andrea has a gentle yet jovial demeanor, as an observer it seems that he runs his farm with ease and positivity.
"Here we do everything by hand and everything with good will. We put the well-being of the people who work here in the foreground. We're a small team of four people, and run a Community Supported Agriculture (CSA) program that delivers a box of seasonal and bioactive produce to 120 families every week."
A few months later, this September, I moved to Florence, and remembered the sweetness of Andrea's strawberries. Andrea is known to accept a new subscription to his program only after he has personally met you. So I called him up to see if he remembered me, he did, so I signed up to his weekly box of goodies. After a week of tasting his scrumptious salads, tasty aubergines and the last of the summer's juicy tomatoes, I was hooked. I wanted to know more about Andrea's method, so I went back to the farm to learn more.
"How did you start Ortobioattivo?"
"About 12 years ago I got sick and a doctor advised me to decrease my meat intake. I began to feel much better and became vegetarian. One day I complained to my wife and said 'how can we eat this supermarket salad, it tastes like plastic to me.' My wife replied, 'you're an agronomist, you run a company that already works with plants, you should be able to figure out how to grow your own salad.'"
Andrea studied agronomy at University, then he had to run his family's meat and dairy farm in Southern Tuscany for many years, traveling the world to sell the meat and milk they produced to large companies. This experience developed his understanding of the broken industrial food system from within. With this understanding, he broke away from the family business and settled in Florence. Once there he opened a company with a subscription service of house plants for hotels and offices.
"My wife's comment caused a spark in me, she was right, I had spent many years on a dairy farm yet I had never grown my own vegetables. So with my wife's challenge in mind, I remembered a trip I had done a couple of years before to the Amazon Rainforest. After seeing the natural fertility of the Amazon and its exuberant and abundant vegetation, I began to wonder how to replicate that fertility for my vegetable garden's soil. So I asked myself, is fertility what we create with our tractors, with fertilizers, or is it with the biodiverse black soil of the jungle? So I closed my eyes and dreamed about how to replicate that fertility. The morning after, when I woke up, I realised that it could be done.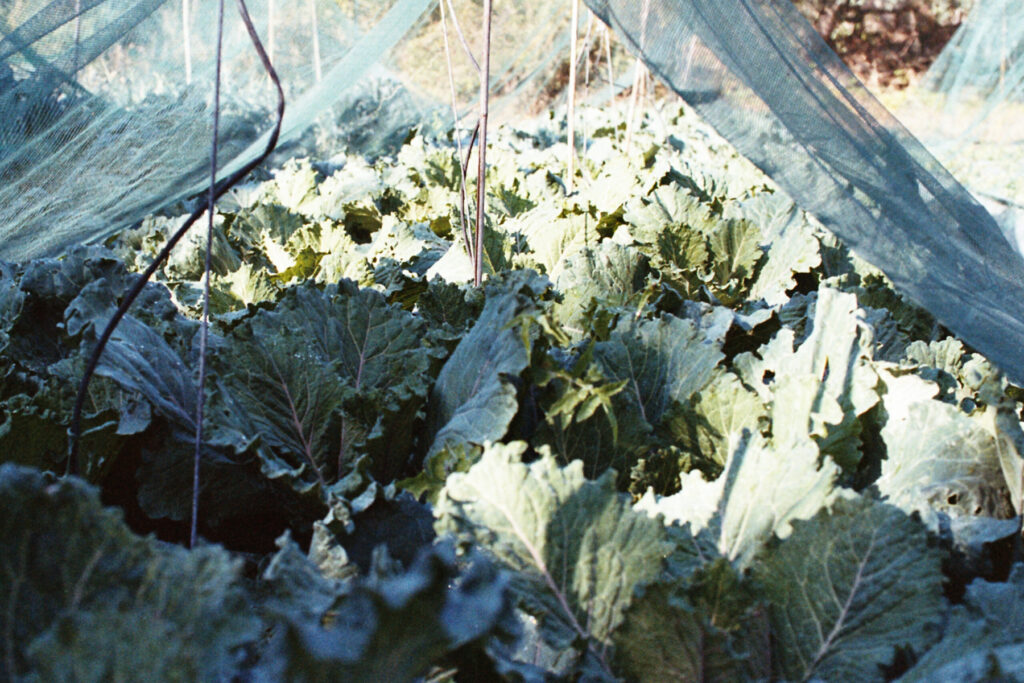 "So I started my own vegetable garden in my lawn. I added compost and volcanic sand, to replicate the Amazon I had to activate the soil, so I also added several key bacteria and fungi. I had started from scratch, and after a mere month I had an incredible vegetable garden. I said to myself, wow this is incredible, I need to tell everyone. So I started to host meetings to spread the word within my local community, to teach them how they too could start their own abundant vegetable garden with this method, because it's simple and the results are amazing, and they're within everyone's reach. In one of the meetings two ladies got up and said 'look Andrea, you have a company, you know how to do it, we can't do it, we have families and work, why don't you do the work for us.' And so that is how the CSA program was born in 2012. We started with 25 families and from there it was all a crescendo."
Andrea not only grows organic produce, he grows biotactive produce. He describes this as food that has certain nutritional compounds that are scientifically proven to be better for you. In fact he has been working with the University of Florence's medicine department and with doctors at the main hospital hosting clinical trials that prove this.
"I had a father who was a pharmacist, back then they were apothecaries. I guess in my lifetime I witnessed the transition from formulated and personalised medicine to the evolution of modern pharmacology. I remember watching my Dad create what looked like potions out of powders, liquids, plants. He worked in alchemy. So I think he instilled some of this alchemical passion in me.
"Today, I see people getting sicker and sicker, the system profits on these diseases, it has reduced food to an almost annoying, daily commodity, without thinking that we are what we eat. This is a rather banal phrase, but it actually encompasses the human being very well, because we are made of light. Plants transform this light into organic substances that we eat, so we eat light. But if this light is turned off then we eat rubbish and therefore we are turned off, and we get sick. For some reason, few doctors are focused on food, which is the true source of one's wealth, one's health and one's positive thoughts."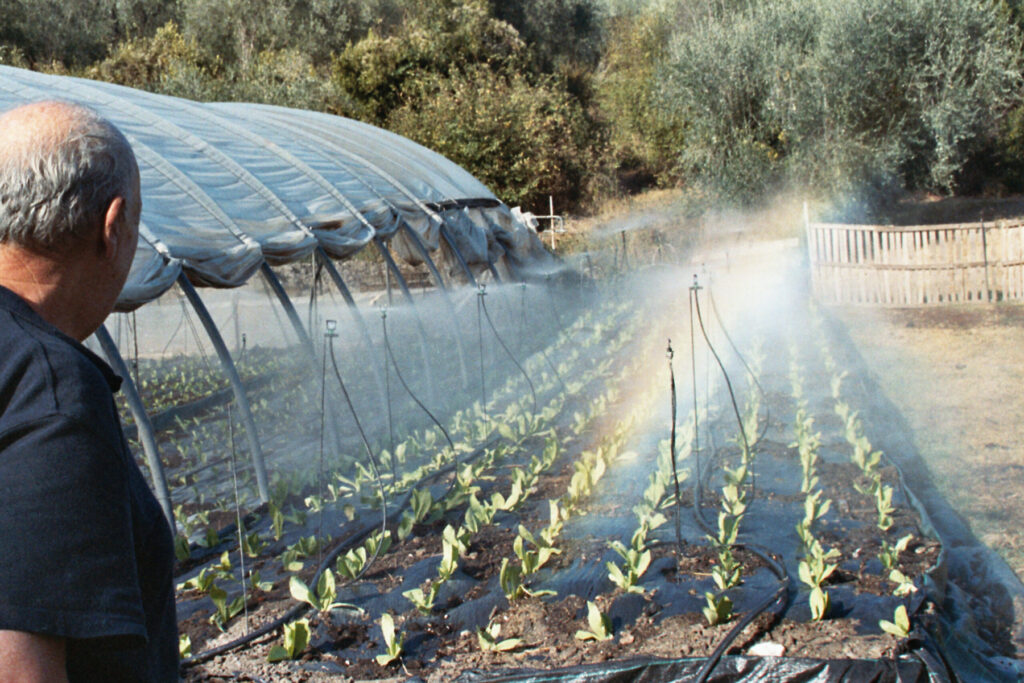 In most western medical degrees, nutrition is not part of the curriculum, so the fact that Andrea is encouraging the medical community to look into the benefits of food is a much needed step in incorporating nutrition into the west's understanding of medicine.
"I was always intent on the idea of food as medicine. Our objective with the garden is to grow hyper-functional and nutritional food. This is what then led us to engage with university studies that give scientific backing that our produce has bioactive compounds that are much better for us. If you think about it, plants absorb all of the nutrients of their environment, they can't move, so our method ensures that they have as many minerals, vitamins, bacteria–essentially bioactive substances–around them as possible. Sometimes I wonder, with the CSA program, is the community supporting the farmer or is the farmer supporting the community?"
I found this a very compelling comment. The term CSA implies that agriculture needs support from its community. However, if bioactive food is a form of preventative medicine, then Andrea's clients need this type of agriculture as much as he needs them. This reminded me of a Quechuan philosophy known as Ayni, where achieving health is finding balance and energetic reciprocity. A beautiful concept when applied in a community context.
Through this work of deepening his and the medical community's understanding of the nutritional value of food, Andrea began analysing the biochemical properties of unusual, albeit edible plants. This is how he rediscovered the amazing value of certain leaves that are not being consumed anymore. This is his latest initiative called "Mangia la Foglia", which translates to "Eat the Leaf."
"Mangia la Foglia came about as I was learning about leaves that are not your typical lettuce or chard, but other less common leaves that have several incredible benefits. We already have some products that are doing well: olive-tree leaves, dried pomace leaves and the laurel. Did you know that the healthiest part of the olive tree is not in the oil but in the leaves? For example hydroxytyrosol and olioromycin, are two powerful antioxidant substances for humans that are abundant in olive leaves."
Alongside deepening Ortobioattivo's relationship with the medical community, Andrea has also established partnerships with local high schools, designing educational and interactive vegetable gardens for students.
"We design projects for schools. For example, for Dante High School in Florence we designed it with their computer science department. We did this to be able to speak to the students in their language, technology. So we not only grew a vegetable garden but also programmed an app and a digital greenhouse that could go with it. On the app the students can monitor the changes that are happening in the greenhouse in realtime. From the CO2 levels, to the temperature changes, and the oxygen and glucose levels. The greenhouse is powered by solar panels, so the app also tracks the electrical energy transfer, as well as the chemical energy that a plant gives off. This enables the students to compare the energy that a solar panel consumes to the one that the plant produces, electrical energy versus organic energy. This helps them relate to everything that is happening in the greenhouse."
Other than the clear educational aspect of the school partnership, Andrea hopes that the gardens will widen the students' worldviews too.
"My mission with this project is to encourage students to observe deeply, and thus develop critical thinking to go beyond what they're taught. I think education goes further than learning from books: it is the ability to see something that might not be obvious to everyone else. You know, when you're in the traditional school system you believe everything they teach you, because that's the system. Only when you go out on your own do you begin to question and to build your own path. It is people that have the ability to observe keenly that are able to do this, and for me this is how I built the Ortobioattivo. This is a company that sees beyond the status quo. It really observes and sees clearly the people who work for it, the land it sows and the people who eat its products."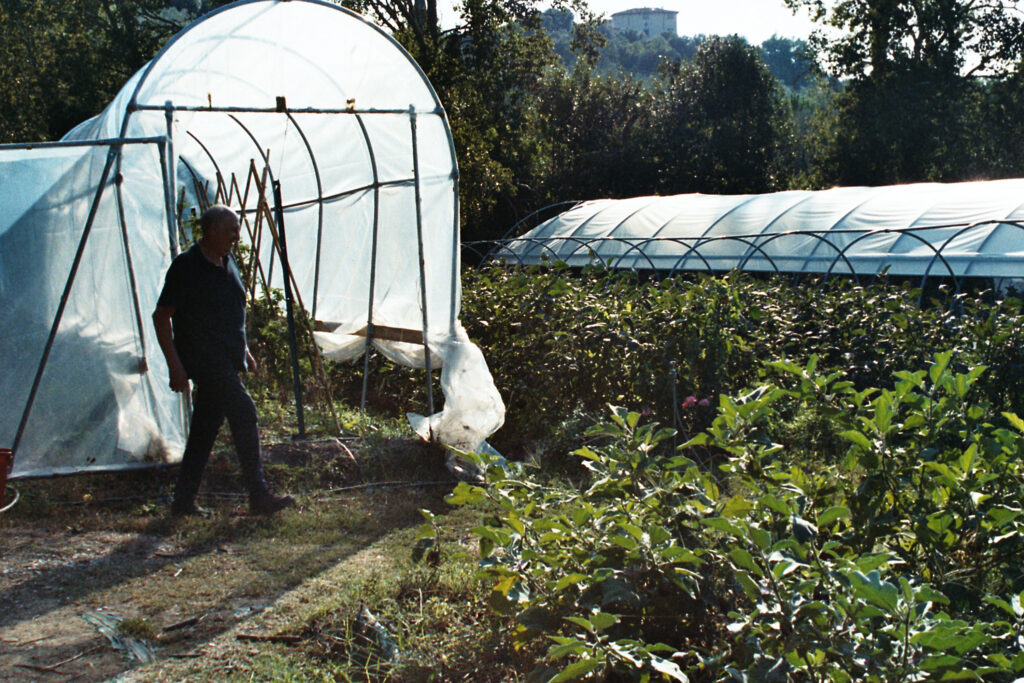 I asked Andrea what has been the most satisfying aspect of Ortobioattivo since it began in 2012?
"Providing food for the same families for ten consecutive years and meeting lots of fascinating people along the way. We have never invested in any form of marketing, every new client has arrived through word of mouth. We are not interested in exponential growth. I have a personal relationship with every customer, and the business is very financially successful, we don't rely on any government or external financing. So I think overall, I'm very happy that we can be an example to others, a concrete one that shows that there is another way of building a solid and independent agricultural business that provides health and nourishment to its community. In the end it's simply a question of change in perspective. Not going to the supermarket and buying something ready, but rather having a more conscious diet that is seasonal, local and healthy."
The Ortobioattivo is not a traditional organic, community-supported farm, it is a hub that attracts people from every walk of life that want to learn about the healing power of plants. Andrea's innately curious personality and constantly positive attitude are its guiding force, a humble leader on a mission to improve lives through the wisdom of food.

Isabella Cavalletti is a storyteller and co-founded eco-nnect.