Reading Time:
2
min
Youtube has been accused of promoting misinformation on climate, whilst Google has been funding climate deniers and conservative think tanks. Meanwhile Facebook's stringent new political ad rules severely undermine environmental and grassroots climate initiatives. Nonetheless both Alphabet Inc and Facebook seem to have pretty overt sustainability charters they like to brag about.
So what is happening?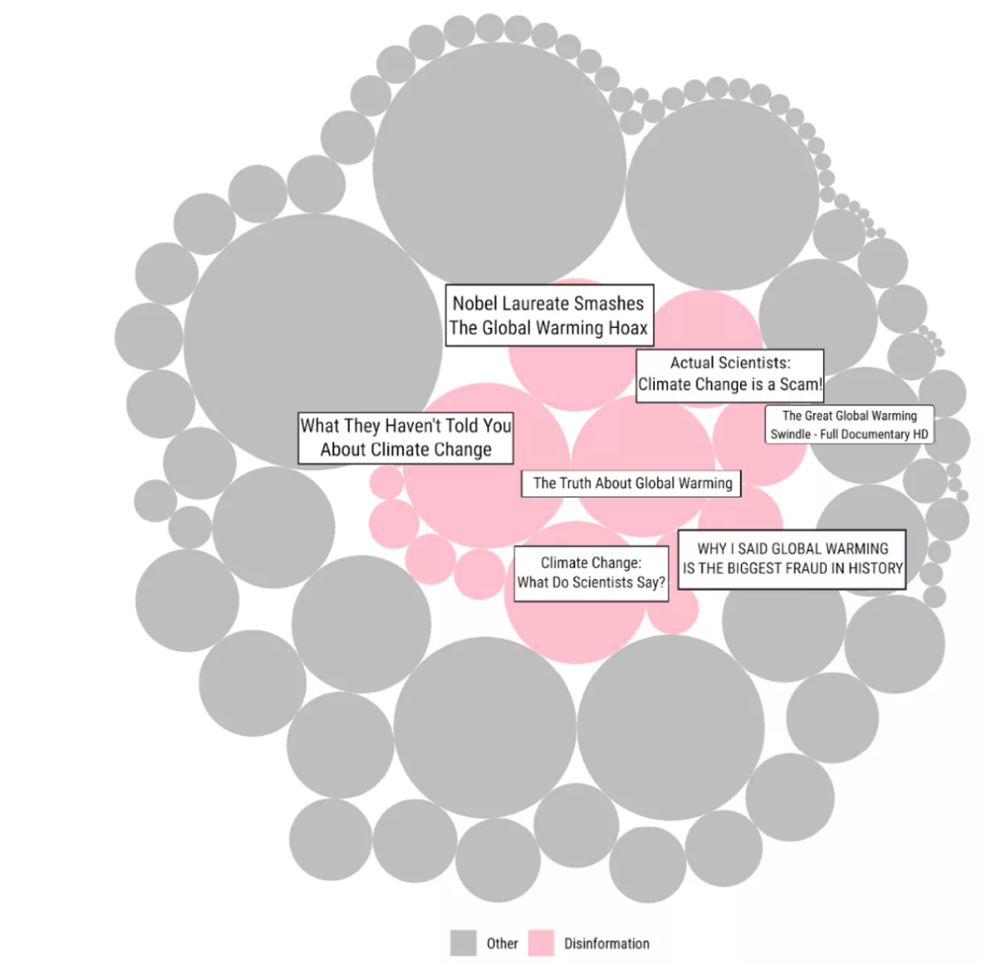 Each circle is a video whose size is equal to number of views, and only videos with more than 500,000 views labeled. Based on the top 100 related videos for global warming related search queries-Avaaz
On youtube 20% of videos found when searching for "global warming" end up being misinformation videos. A new report by US NGO Avaaz revealed how viewers get recommended misinformation videos due to Youtube's popularity algorithm.
Unfortunately in a polarised US where basic climate facts are constantly contested, Youtube's algorithm simply can't keep up—placing the big tech company in a difficult position to maintain it's reputation.
On the other hand Google's contributions to climate deniers such as the CEI (Competitive Enterprise Institute)—a conservative policy group that was instrumental in convincing Trump to leave the Paris Agreement, SPN (State Policy Network), and the Heartland Institute —a radical anti-science group who called Greta Thunberg "climate delusion hysterics." A spokesman for Google explained that its contributions to such groups are to help finance their deregulatory agendas, without any considerations towards their climate agendas. This seems like a gross contradiction giving Google's public climate activism, in Bill McKibben's words it seems like "functional greenwashing."
Lastly, in light of Facebook's political conundrums its new stringent political ad laws target small environmental initiatives too. The environment should not be labeled "political" it should be apolitical. Yet any post mentioning climate change, the environment, or nature is blocked by the social media giant. Of course, this will most likely do more harm than good as small companies with almost no digital marketing budget will struggle to spread the truth about our climate crisis.