Sustainable making from mushrooms responds to issues facing the design world.
I've always been obsessed with design and interiors, and as I've moved around, the making of my bedroom in houseshares has been a paramount project. It's creative and a form of self-expression. Genuinely enjoying your most intimate space feels like a small victory in an era that can often feel so tumultuous and disempowering, especially concerning Covid-19, the climate crisis, and more recently, the global rising cost of living.
So how can we shift toward minimizing material waste and thinking more consciously about sustainable making practices? Researchers at the University of Nairobi summarize that we are seeing a societal shift to integrate environmentally sustainable practices as people are starting to recognize the link between "spaces, people and the community." 
This vein of thinking inspires us to hold big business and industry accountable for environmental harm and counterargues the misconception that public behaviour is solely responsible for the polluted built environments we inhabit. While we can all make differences in adopting greener behaviours, fundamentally, change happens in the macro fields of environmental damage as opposed to micro ones.
This is where mushrooms make another compelling case.
Mycelium, an offshoot of fungus, has gained traction in recent years as a sustainable material and is taking centre stage across the construction, architecture, and interior design industries. The construction industry is developing science-led innovations that will enable the roots of mushrooms, which consist of minuscule threads called hyphae, to become adopted, and widespread in building initiatives.
The key reason for this technological drive is that mushrooms are sustainable. If we grow our bricks and boards from mycelium and fill it with agricultural waste, it takes days for the mushroom spores to absorb the organic matter into a viable solid from a process which is affordable and efficient. Mycelium is highly versatile and helps replace the use of harmful plastics. Researchers with Scientific American argue that biological technology is the most persuasive direction we must take to harmonize our built relationship with Earth.
Architectural disruption
The architectural firm The Living broke new ground with their sustainably made mushroom brick tower, the "Hy-Fi" which debuted at MoMA's courtyard space in Manhattan in 2014. The dismantlement of the tower two months later saw each brick taken to compost, one point to organic material.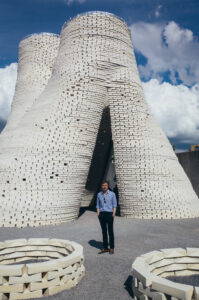 Architects were first inspired to use mushroom roots by biodegradable waste packaging initiatives, which first used mycelium as a circular economy material. The main drawback for mushroom root in construction however is the strength of the material, whilst its function is proven in interior design fields and as an insulation material, it falls short in areas where structural proficiency is the end goal. Researchers are currently refining products to enable the material to be weight-bearing, which will diversify its use. The construction industries currently contribute to around a tenth of global carbon dioxide emissions and this isn't improving without the integration of unconventional and grown materials which will steer industries away from factory-made fossil resources.  
Additional work has been done exploring the benefit of mycelium in performing health and safety roles in buildings for its natural fire retardant properties.
After the tragedy of the Grenfell Tower fire in 2017, fire cladding entered public discourse for important reasons highlighting both government and construction failures. The subsequent inquiry concluded that the use of polymers such as polyethene incorporated aluminium composite in panels resulted in hazardous smoke inhalation that was mostly responsible for the 72 lives lost. Reports and quality laboratory testing proceed to strengthen the case of mycelium as a new sustainable and fire-impeding biomaterial, which is carbon-negative meaning it confiscates more atmospheric carbon than it releases over its lifecycle.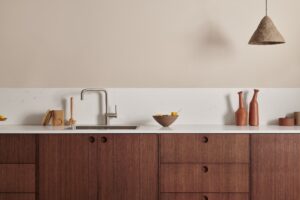 Mycelium then, in the spheres of our built world, offers us tremendous solutions and hopes to press climate solutions and our safety here and now. Through harnessing the powerful relationship between bioscience, innovation and design specialists and designers are showcasing what's possible if we invest time and money into mycelium alternatives.