Reading Time:
2
min
Patagonia's founder, Yvon Chouinard, has just announced that he and his family will donate their 98 percent share of the company, valued at $3 billion dollars, to fight climate change. Patagonia was founded 50 years ago, in 1973, by Chouinard, a passionate rock climber with a strong enthusiasm for encouraging the preservation of the planet.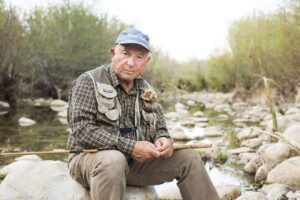 The Chouinard's family shares will be now owned by a collective known as the Patagonia Purpose Trust and the Holdfast Collective, with the purpose of reinvesting all profits that aren't reinvested back in the Patagonia business towards fighting climate change. The collective estimates that Patagonia will be able to contribute $100 million a year, depending on the financial health of the business. In Yvon Chouinard's public statement about the decision he states:
'We're making Earth our only shareholder'
The word sustainability and all of its meanings are deeply engrained into the roots of Patagonia's history and it continues to play an important role in the ethos of the company. The company's vision statement literally states: "Build the best product, cause no unnecessary harm, use business to inspire and implement solutions to the environmental crisis."
Patagonia is completely aware that they are operating in a business space where profits are prioritised with zero care for the harm done to the environment, however Chouinard has decided to take the company in another direction, highlighting quality over quantity, so that consumers are purchasing investment pieces and limiting their clothing consumption.
To further emphasise how seriously Patagonia takes their environmental commitments, the company has achieved a B-Level rating from B-Labs, which evaluates businesses on their impact on their major stakeholders: its workers, customers, community, and the environment. B-Labs also ensures that the companies it certifies maintain a level of transparency over their products and their impact.
Furthermore, Patagonia is a member of the Sustainable Apparel Coalition and 1% For The Planet, rejecting fast fashion products in favour of high-quality and long-lasting products that offer a repair and reuse program.
If there is any company in the fashion world to put on the fight for climate change pedestal it is Patagonia. Their commitment to the environment combined with the way that the company has been able to use business as a way to fight climate change is a lesson that other companies in the fashion world can take notes from. Ensuring that we only buy from businesses that prioritise the planet as part of their business model really is the only way we can ensure, that we, as stakeholders, have a greener future. Not only for us but for all generations to come.
Another Article You Might Like: How To Tackle Fast Fashion