Reading Time:
< 1
min
Zermatt is the only car-free resort, the initial reason was to prevent pollution that could otherwise obscure the majestic Matterhorn towering over the town. Today it is the pristine example of a resort fighting climate change first and foremost at home.
Zermatt's initiatives: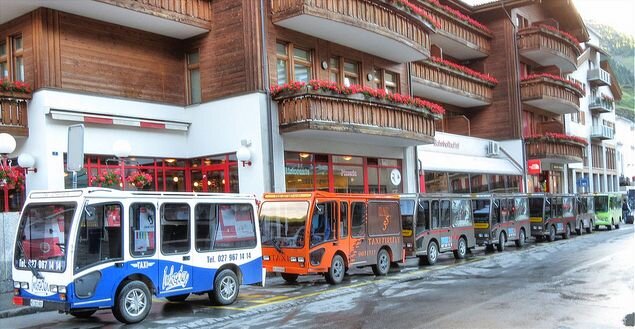 electric taxis in Zermatt
Since 2002 Zermatt Bergbahnen (cablecars) has always set working groups implementing environmental planning agencies to help define Zermatt as a Sustainable Ski Resort.
In order to achieve this a number of practical measures were introduced: implementing photovoltaics in new cable cars and high altitude 3,883m restaurants, increasing their waste-management only using electric vehicles and buses and spending around 1 million chf a year in novel projects and initiatives to promote the environmental agenda.
Wildlife Conservation:
Zermatt has six protective forests and ten areas designated as wildlife sanctuaries. These are home to black grouse, chamois, deer, alpine hares, ptarmigan and ibex.
Recycled Plastic Green Roads:
Zermatt's most recent approach was to repurpose recycled plastic to resurfacing their roads. This enables Zermatt to offset its plastic production. The rationale to this approach was due to Switzerland burning most of its 80% recycled plastics. As a way of preventing CO2 emissions up-cycling sturdy roads is a great initiative that is both water-resistant and environmentally-conscious
As climate change intensifies resorts worldwide should take notice of Zermatt and apply a similar zealous front in tackling climate change.