Reading Time:
< 1
min
Mission
The World Bee Project's mission is to increase food security and livelihoods by combining Cloud computing with world-leading bee research to provide beekeepers, farmers, researchers and governments with the new insights and knowledge they need to find solutions to the inter-connected challenges of bee and biodiversity decline and climate change.
Vision
The World Bee Project's vision is to deliver state of the art knowledge directly to the hundreds of millions of smallholder farmers around the world to enhance the contribution of pollinators to food security, livelihoods and national economies.
Through promoting country-by-country pollinator stewardship and pollinator ecosystem restoration WBP hopes to fulfill the ultimate vision of placing the natural world at the heart of public policy and enshrining environmental protection in national constitutions.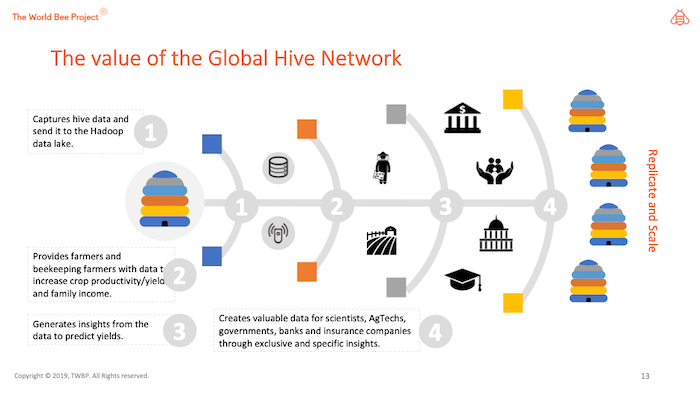 "The challenges humanity has created for itself are so vast that they can only be resolved by human ingenuity – including the use of AI, IoT and data analytics, computer vision, wireless technologies and robotics in advanced ways to discover new insights and create new solutions to serve bees and pollinators, food production, livelihoods, wildlife conservation and to mitigate the climate emergency. In fact, to ensure our survival on earth."— Sabiha Malik, founder, The World Bee Project
Want to join the World Bee Project's hive network? Check it out here