Reading Time:
2
min
Misool eco-resort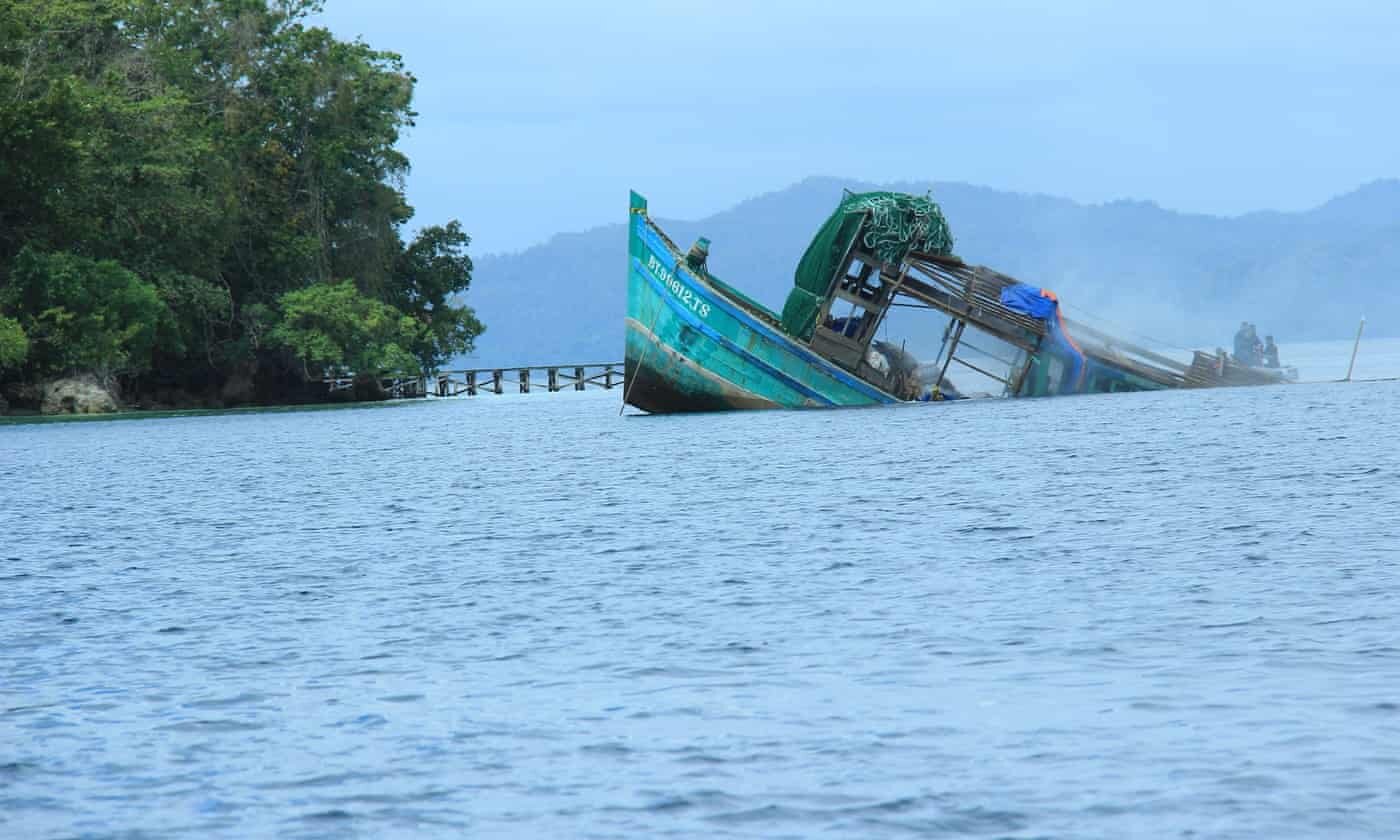 the sinking of an illegal Vietnamese vessel in 2015 by a local patrol boat
Today the vast archipelago known as Raja Ampat in West Papua, Indonesia is home to the most marine biodiverse area in the world. Located in the middle of Asia's Coral Triangle it has more marine species than anywhere else on the planet: 553 types of coral and 1470 species of reef fish.
However, this wasn't always the case, by the end of the 1990s this underwater paradise was decimated and brought to the brink of ruin. It has returned to its high glory thanks to a mix of admirable dedication, tough conservation efforts and strong cooperation. Its story is one of hope, reminding us that if we appreciate and protect nature in a short time it will flourish.
So how did it happen? Since 2003 NGOs such as The Nature Conservancy, Conservation International and WWF have worked with local governments and high end dive resorts to create and protect a resilient network of 12 Marine Protected Areas throughout the reserve known as Bird's Head Seascape (Raja Ampat). With a zero tolerance policy they have decreased illegal commercial fishing by 90%. How? Financing a tough patrol system that sinks illicit foreign fishing boats in the area.
By 2009 fish stocks were bouncing back, the reef was responding well and the MPA was thriving. This caught the attention of diving enthusiasts worldwide who were now returning to the once decimated area. The sharp increase in dive tourism since enacting the MPA led the local government to approve the world's largest shark and manta sanctuary in 2010. This proposal had come from another conservation charity: Shark Savers, in collaboration with the Misool Eco Resort—a wonderful hotel who has become the funding vehicle for conversation work in the Misool area (an area within Raja Ampat). With the approval of the shark sanctuary Misool saw a 25x increase in shark populations in just 7 years.
Many local resorts employ only local guides, financing their diving courses and offering them a stable job as a dive guide. The local community has grown to truly appreciative their underwater paradise and the global attention it has received. They are now active protectors of their biodiverse hotspot too. Today, Raja Ampat is a shark and manta safe haven, its underwater biodiversity is flourishing, species are returning—humpbacks and sperm whales are now regularly sighted— and corals are healthy. It is safe to say that in 2020 this once devastated area has become a diver's dream.
The Wonderful Tale of Raja Ampat demonstrates that conservation efforts can benefit all: the local community, wildlife, the tourism industry and even the fishing industry.
Let's hope it becomes a testament to conservation efforts everywhere.


By: Isabella Cavalletti