Reading Time:
3
min

palm oil monocrop
Sri Lanka has imposed a ban on palm oil imports and ordered oil palm plantations in the country to be replaced with rubber trees and indigenous crops. The decision comes in an effort to boost biodiversity, alleviate water scarcity and turn to endemic crops instead.
The decision is based on recommendations from a 2018 report by a panel of environmental experts from the Central Environmental Authority (CEA) who linked oil palm plantations to soil erosion and the drying up of water sources the
Unlike in other countries where the crop is grown, oil palms aren't a driver of deforestation in Sri Lanka; instead, they've replaced rubber plantations, which host a higher level of biodiversity and provide more jobs for locals.
Another concern is that oil palm is becoming an invasive species, occurring in the wild in a forest reserve, with as-yet-unknown impacts on native flora and fauna.
The CEA's findings that palm oil plantations were intensifying soil erosion and drying up springs, as well as affecting the island's biodiversity and livelihoods.
Gamini Hitinayake, a member of the CEA and professor in the Faculty of Agriculture at the University of Peradeniya, said the proliferation of oil palms threatened native plant and animal species.
"Oil palm is a threat to the existence of all traditional plantation crops such as rubber, tea and coconut which are far more environment friendly," Gamini Hittinayake
Invasive species
Siril Wijesundara, former director general of the Department of Botanical Gardens and a member of a team documenting invasive alien plant species in Sri Lanka, said oil palms have been found growing naturally in the Indikada Mukalana forest reserve in the country's west.
Water Scarcity
Hitinayake said another of the main concerns regarding oil palm cultivation is that the tree absorbs a lot of water, leading to fears that it could dry up local streams. Oil palm is a fast-growing plant, and as such has a high rate of water consumption.
Monoculture problem
Another issue the expert panel report highlighted was that oil palm plantations don't have intercropping or undergrowth; they're strictly monoculture, and so don't support biodiversity. In contrast, the more common rubber plantations do support a relatively high level of biodiversity. Recent research shows endangered Indian pangolins (Manis crassicaudata) prefer rubber plantations as their prime habitat, after forests.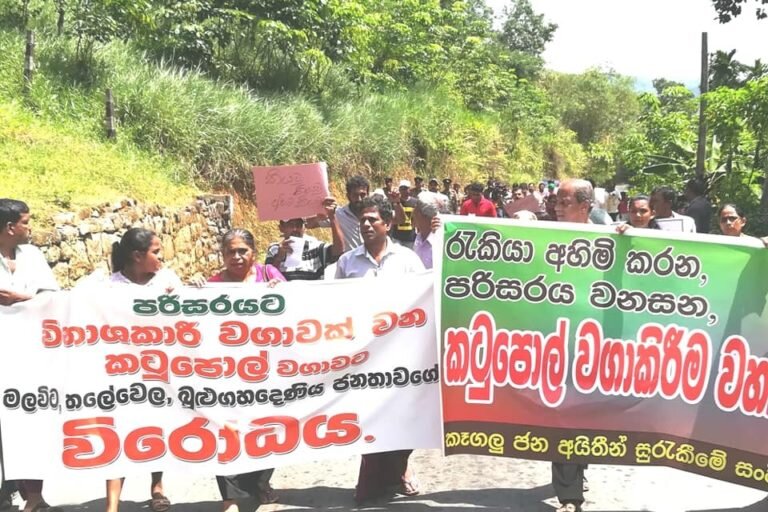 Sri Lankan farmers protesting against palm oil
But rubber plantations have disappeared to make way for oil palms since the latter were first introduced here. Unlike in most of the other countries where oil palm is grown, notably top producers Indonesia and Malaysia, the crop's commercial cultivation hasn't driven large-scale deforestation in Sri Lanka. Instead, it has taken over rubber plantations, aided by tax concessions for seed imports and other incentives from the government.
Social impact
Cultivating and harvesting palm oil isn't as labor-intensive as rubber or other crops, villagers in Sri Lanka have protested to keep the rubber plantations alive instead.