Reading Time:
3
min
Two Dutch startups brought the project to life: Nova Innova, van Oers' design company, and Plant-e, a tech company that patented Plant Microbial Fuel Cell Energy (P-MFC). Together they are showing the world how to use a truly carbon negative energy source: plant power.
"The potential is huge, street lights could be connected to trees. Forests could become power plants. Rice fields in Indonesia could produce food and electricity for the local population."—Ermi van Oers
How does P-MFC work? Simply put, its microbial energy: microbes in the soil convert the chemical energy a plant naturally produces (due to photosynthesis) into electricity. During photosynthesis a plant produces organic material for its own growth, not all energy is used, some is lost via the roots to the soil. In the soil, bacteria break down the organic material. During this degradation process electrons are released as a waste-product. Electrons equal electricity.
"It's based on the principle that plants produce more energy than they need" —Marjolein Helder, co-founder of Plant-e
Under the influence of sunlight, plants make organic material (sugars) and oxygen from water and carbon monoxide, this process is what is known as photosynthesis. This organic material is transported throughout the plant, and not all of it is used by the plant, this excess is secreted by the roots. Naturally occurring bacteria surround the roots breaking down what is secreted, releasing electrons and protons. The electrons are collected in the anode (a minus pole) of Plant-e's plant battery. The electrons flow through a wire and is transformed into electricity. A smart chip enables the technology to increase the voltage and to power the light. The light is turned on when we touch the plant thanks to a sensor. The light is self-sufficient and off-grid, using three LED lights with a bamboo holder.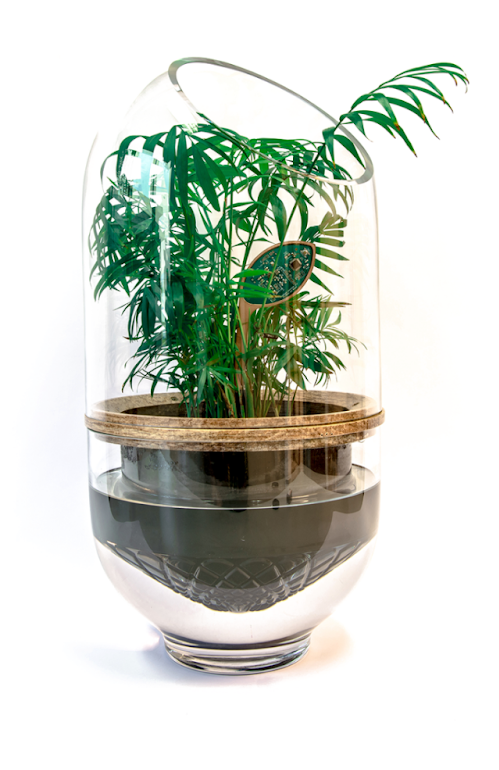 The first batch of Living Lights are now being delivered to eager customers. The light comes with pre-selected plants: Spathiphyllum or the Chamaedorea Elegans. Of course the amount of energy produced depends on the wellbeing of the plant, so it helps develop your green thumb, and the amount of light depends on the periods of rest between the activation of the light, encouraging customers to respect the natural rhythms of life.
To learn more, watch Ermi van Oers' TED talk.