Reading Time:
3
min
It's summer, and you're at the beach enjoying the waves, the sun, and your tuna sandwich. Everything is perfect until you open eco-nnect's weekly newsletter and realize that your salty-pickly-tuna sandwich might not be real tuna, and it is actually plundering our wonderful marine life.

Tuna is a fish family of seven different species: Albacore, Bigeye, Skipjack, Yellowfin, Atlantic Bluefin, Pacific Bluefin, and Southern Bluefin. These fast swimmers differ from mainstream white-flesh fish because their blood is warm, caused by their muscle contractions when swimming, making their flesh vary from pink tones to dark reds. Bluefin, Yellowfin and Bigeye tuna are currently threatened by overfishing. Tunas are predators, playing a key role in maintaining the balance in marine ecosystems. They should not go extinct.
tuna auction at Tokyo fish market
The latest tuna scandal occurred this past January when two Subway customers filed a lawsuit against the company for fraud, unjust enrichment and intentional misrepresentation. The complaint alleges the ingredient advertised as "tuna" for the chains' sandwiches and wraps contains absolutely no trace of tuna DNA. The plaintiffs' specialized fish-testing lab revealed that over 60 inches worth of tuna subway sandwiches were such a concoction that no identification could be made.
Of course, a representative for Subway fiercely responded that the accusations were "baseless" and that their bluefin and yellowfin tuna are wild-caught—offering a 50% discount on their tuna sandwiches. Great.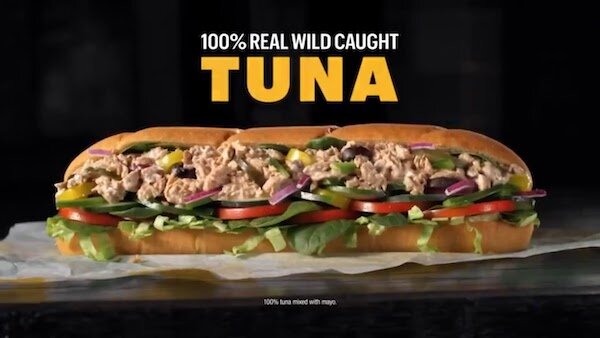 "There's two conclusions. One, it's so heavily processed that whatever we could pull out, we couldn't make an identification. Or we got some and there's just nothing there that's tuna."— a lab spokesperson told the Times.
Unfortunately, mislabeling in the seafood industry has become a common reality. Cat food labeled as "tuna", canned "tuna", "swordfish that is really sharkmeat, the examples are endless and heartbreaking. The truth that the fishing industry doesn't want you to realize is that fish stocks are so unhealthy that they simply cannot fulfill the large demand for these fish anymore, therefore they simply replace the meat with more readily available fish: sharks, dolphin—pretty much anything that will look like the real thing. Meanwhile, this endless cycle is just leading other species to the same fate: extinction.
Perhaps, Subway really did trust their fish supplier, and the lie begins further down the supply chain. However, we have reached a point where the client—in this case Subway—does have a responsibility to its customers to verify the origins of its main product: sandwiches.
What can you do?
1. Switch to a plant-based diet
2. Try to stop eating fish
3. File similar fraud complaints in your country
4. Sign our petition to ban shark fishing
5. Try Good Catch Foods and other fish-alternative companies