Reading Time:
3
min
Wait, what?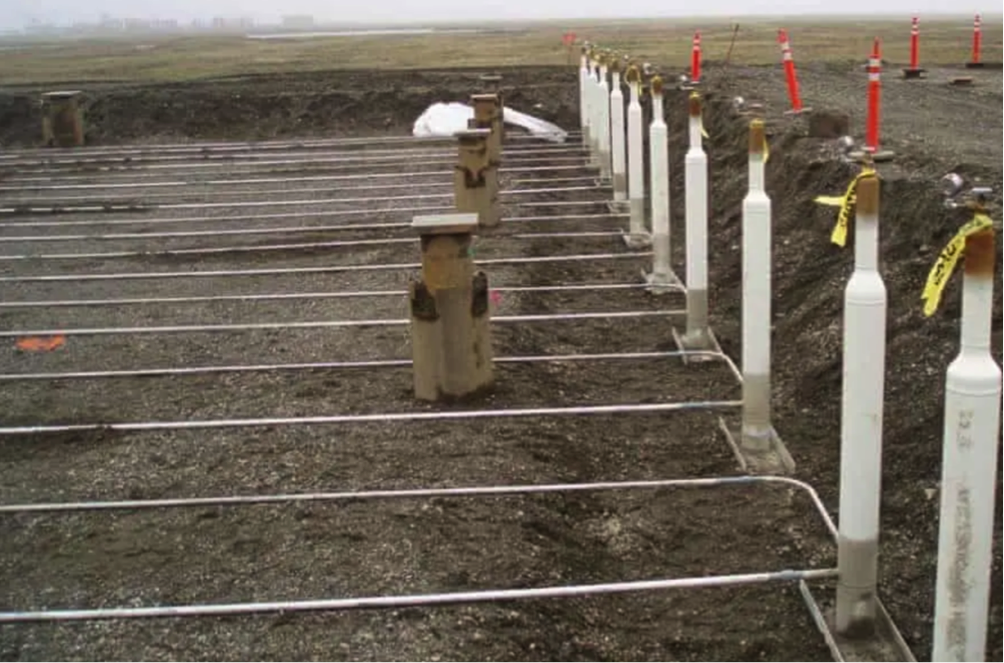 Thermosiphons installed at the Nikaitchuq oilfield on Alaska's North Slope, where they cool the ground and keep permafrost from thawing beneath a warehouse.
Photograph: Courtesy of Arctic Foundation
Alaska is warming faster than any other state in the US. Alaska is also laden with oil. Trump recently opened new areas in Alaska to offshore drilling—including the ANWR and an Indiana sized region called the National Petroleum Reserve (which despite its name is a thriving wildlife ecosystem which includes the Teshekpuk lake).
As temperatures drop in the region, the permafrost on the ground melts. Without the permafrost, trucks can't pick up the oil, or deliver it—making operations difficult.
Big Oil's response?
Conoco Philips, among other companies, are jumping at the chance of drilling the last wilderness in Alaska. However, climate change is disrupting their dreams, thus they're opting to use Beadedstream and Arctic Foundations' latest technologies to mitigate their minor logistical problems (lest we forget that big oil is responsible for climate change to begin with).
So here comes their insatsiable greed and stupidity:
Climate change is thawing the ground, Conoco Philips hires Arctic Foundations to build cooling devices. In this case thermosiphons: underground tubes that pull heat out of the ground. Then Conoco Philips hires Beadedstream to monitor the changing underground temperatures, so that it knows when to drill. This allows extraction to continue peacefully.
The Trump administration and Alaska:
So armed with cooling technology and new Trump leases, big oil is having a feast to say the least. Whilst the rest of us are scrambling to make sense of what an Arctic melt means for the future of humanity, this is what Republicans and the heads of big oil are thinking:
"Our reliability quotient goes up," said Mead Treadwell, the Republican businessman and former Alaska lieutenant governor who has helped to spearhead the project. "Climate change, the changing composition of sea ice, has made this more economic."
ANWR & the National Petroleum Reserve:
ANWR stands for the Arctic National Refuge. Trump has recently opened more than 1.5 million acres of it to oil drilling. This area is literally the largest national wildlife refuge in the US, and the LAST untouched wilderness in America. The National Petroleum Reserve, also in Alaska, is another vast wonderful wilderness. Home to the Teshekpuk lake, it attracts birds from all 7 continents, as well as migrating cariboos.
In a world where Attenborough is pleading us to preserve biodiversity as our last hope against climate change, it seems pure evil to destroy ANWR. But then it is. We are fighting pure evil.
What can YOU DO?
VOTE THE ASSHOLES OUT.