Eygpt, the host of COP27 has announced that major drinks manufacturer, Coca-Cola will sponsor COP27 in November this year. This announcement has caused outrage amongst environmental activists as they claim that Coca-Cola is one of the largest plastic producers and causes of plastic waste in the world.
"Over four years, we've found Cola-Cola to be the world's top plastic polluter in our annual brand audits. It's astounding that a company so tied to the fossil fuel industry is allowed to sponsor such a vital climate meeting."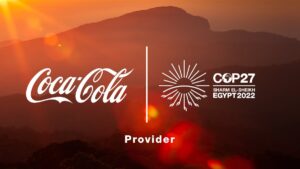 How Is Coca-Cola the Biggest Polluter in the World?
The Coca-Cola company is the largest drinks manufacturer in the world, owning 500 different beverage brands operating in almost every country on the planet- their red and white logo is probably one of the most recognizable brands in the world.
Coca-Cola's operations are enormous, selling over 120 billion plastic bottles from its various brands in one year- which is about 200,000 bottles every day. In addition, the company creates an additional 3 million tonnes of plastic packaging waste every year.
For context, 99% of plastics are made from fossil fuels such as crude oil, coal and natural gases. Thus, starting from the beginning, the manufacturing process is already terrible for the environment. In addition, not all plastics are made to be recycled, but also to recycle plastics, new plastics have to be created. Thus, Coca-Cola's claim that it can produce 100% recycled plastic bottles is far-fetched.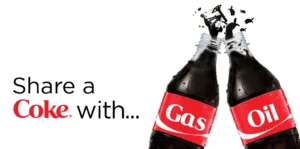 Why Are Plastics so bad?
Plastics have infiltrated every part of our lives. They are literally everywhere. We have all seen the images of the great pacific garbage patch, and landfills across the world which are just filled with plastic bottles. Aside from the unsustainable production process that it takes to make plastic bottles, it is also the fact that plastics cannot be broken down by themselves in nature. We have manufactured plastics in a way that they last forever.
If a plastic bottle is left in nature to break down, the damage from the sun, salt water and other natural processes break the plastic down so that microplastics then enter our environment- seeping into the soil, our groundwater and even into the stomachs of the food we eat. It has gotten so bad that microplastics have just been detected for the first time in human breast milk.
Another Article You Might Like: A Worm That Eats Plastic, a University of Queensland Study

In an attempt to reform our use of plastics, many companies have introduced plastic recycling programs, which we are not disputing as a bad thing. It really is a step in a good direction, however, many of the countries afflicted by mass plastic pollution are developing countries, which lack the infrastructure, education and even government interest to implement effective recycling programs.
In addition, most plastic doesn't even get recycled but rather it ends up in landfills and the ocean which leaves the plastic in a condition where even if collected, is in such a bad condition that it cannot be recycled.
Coca-Cola's Defense
Coca-Cola launched their World Without Waste sustainability initiative in 2018, with the goal of  "collect and recycle the equivalent of 100 per cent of its packaging worldwide, and manufacture its bottles using at least 50 per cent recycled plastic by 2030."  This includes setting up recycling facilities in the 200 countries they have operations in, as well investments in consumer engagement about sustainability and recycling incitatives.
However, 2030 is a long way off, and it really only covers one-quarter of the plastics produced by the company. Furthermore, this is a promise which is subject to being changed based on circumstances such as infrastructure etc.
In addition, the beverage giant has a proven track record of breaking its promises. In 1990, Coca-Cola promised to use an average of 25% of recyclates in its PET bottles. Now,  thirty years later, that percentage is only 10%.
Coca-Cola has responded to the criticism of environmental activists stating that the company has shared goals with COP27. A spokesperson for Coca-Cola stated: "Our support for COP27 is in line with our science-based target to reduce absolute carbon emissions 25% by 2030, and our ambition for net zero carbon emissions by 2050. Packaging represents around 30% of our carbon footprint, so our World Without Waste strategy and carbon reduction efforts go hand in hand."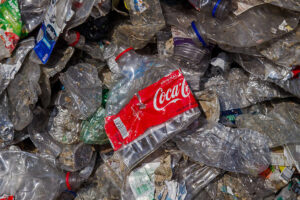 Our Take on Coca-Cola's Involvement in COP27
Coca-Cola's presence at the world's largest climate event is the definition of an oxymoron in the eyes of climate activists. How can the world's biggest plastic producer even make the claim that they are doing "their part" by sponsoring COP27? I would claim that this is greenwashing at its absolute best.
Coca-Cola has refused to acknowledge their part in the climate crisis and all their efforts to "minimize" its impact are overly superficial. Real change must come from Coca-Cola's corporate values.
In 2021, Coca-Cola brought home $23.29 billion dollars in profits but has only designated $250 million dollars towards supporting its sustainability transition over the next 3 years. That only is 1% of Coca-Cola's yearly profits.
Coca-Cola has the amazing opportunity for COP27 to reflect on their environmental impact and actually implement an effective sustainability policy which allows for economic success while ensuring that the earth becomes an important stakeholder in their corporate mission.