Reading Time:
2
min
"1.3 billion tonnes of food (or 1/3 of food produced) for human consumption is lost or wasted globally per year. 800 million tons of garden waste are generated in the cities annually. So, rather than damaging and destroying our one and only nature, why not up-cycle our natural resources?"
Turkish design studio Ottan has created a novel material, one that upcycles fruit peels, nut shells, fallen leaves, or coffee and turns it into home furnishings.
How does it work?
Founder Ayse Yılmaz came up with the idea when watching colourful autumn leaves fall. Ottan Studio was set up with the mission "to show that we can create anything from nature without consuming it." Her team of 5 then delved deep into R&D and created a process whereby upcycled organic waste would be cleaned, dried, and grinded, and then mixed with sustainable resins. Lastly, they are injected into moulds. The end material can be widely applied and the studio designs "minimal yet multi-purpose" furnishings with it.
What do they make with it?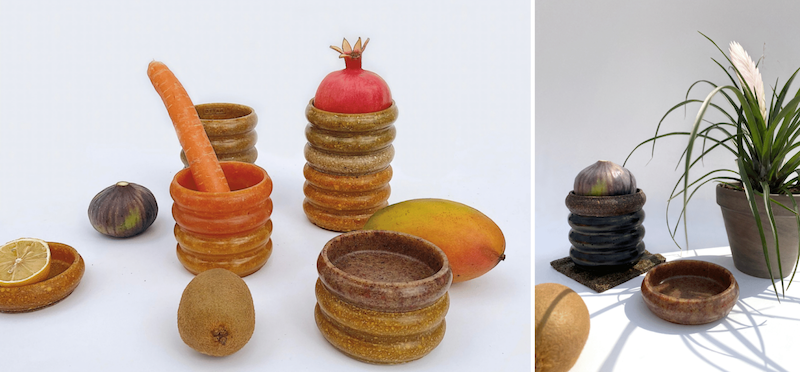 The company is creating containers, lamps, table tops, wall treatments, automobile interiors, coffee machines or fridge doors…Offering a vast palette of colours, all derived from nature without the need of colourants. The potential is endless. Partnering with local municipalities and companies they are keeping vast amounts of food from reaching landfills.
"We don't dig the mountains, destroy the forests and spend excessive energy to process the raw materials. We use 100% locally-sourced waste and materials. Imagine fallen leaves on the streets…By using those leaves or pruned branches, we can save a 50-year-old tree that would otherwise be cut down to create the new product."—Ayşe Yılmaz, Ottan founder