Reading Time:
15
min
"For me up-cycling feels like the best and most logical way to reduce waste and damage in the fashion industry. I have so much respect for all the exciting innovation going on but this feels like the clearest, simplest solution whilst also providing employment security and protecting the local crafts of skilled artisans."—Larissa von Planta
In the wake of the cataclysmic explosion in Beirut on the 4th of August 2020, the world watched stunned at the appalling damage suffered by the ancient port city.
According to seismologists at the United States Geological Survey it was the equivalent to a 3.3-magnitude earthquake, killing 210 people, injuring over 5,000 and leaving an estimated 300,000 homeless. This disaster struck amidst an already unfolding economic crisis in the country. The damage to livelihoods and industries was devastating.
A collective movement to respond to this crisis ensued all around the world from small grassroots to large scale international efforts. Among these was, Larissa von Planta, a sustainable fashion couturier, who had just left Beirut two days before the explosion. Having processed the shock of the event, Larissa quickly got to thinking how she could help the artisans she had worked with in Beirut who collectively form the Alsama Studio. Alsama is filled with the sound of needlework and women chatting, while beautifully embroidered pillows, jackets and linen shirts line the shelves of the walls adorning the rooms with colour and texture. Fatima, Alsama's brilliant coordinator and studio manager, runs a team of exceptionally skilled women embroiderers from Syria, Lebanon and Palestine. This work is not only a precious traditional craft but also pressingly provides long-term employment stability.
Larissa saw an opportunity to help the studio by offering needlework and up-cycling for her friends' pre-loved items of clothing and homeware. Each friend was asked to pay a fee of £100 and send the item to a collection point in London where it was sent to Beirut to be adorned in beautiful designs. This instantly allowed Larissa to provide income and essential work to the women of Alsama. As a model this worked well and Larissa is continuing to offer dates of collection in London, Austria and Switzerland whereby anyone can send in their item of clothing or homeware along with a fixed fee of £100 and await the return of a unique piece of craftsmanship. In doing this Larissa is also tackling another cause close to her heart, that of transforming the fashion industry into a less wasteful, kinder and more sustainable business. Both a refreshing antidote to fast fashion and way of empowering artisans by giving them a working structure of employment; this is an exciting blend of conscious consumerism and sustainable solutions with an authentic and powerful story behind it.
Larissa sadly lost her mother in April 2020 and feels that this initiative is a tribute to her mother's energy and spirit.
We catch up with the wonderfully talented Larissa, inspired to hear more about her, the story behind LVP x Alsama and how she envisions it will continue to grow.
Hello Larissa, so nice to be chatting with you. Will you start by telling us a little about how this past year has been for you? 
'In March 2020 I decided to come home to be with my Mum and my family. After my Mum passed away, the situation was getting so much worse in Beirut. Constant demonstrations and protests, often escalating into violence. It became exhausting trying to keep up a business there, so myself and many of my friends were having to consider going elsewhere. It was a very sad goodbye. I went back in mid July and gave myself 10 days to pack up and leave. I said my goodbyes, found new jobs for the tailors and seamstresses who I worked with. I left on the 2nd August and the explosion was on the 4th… where my apartment and studio were was where the destruction was worst, so it really was a miracle to have left then. The area was full of bars and cafés and beautiful old buildings. It was all a massive shock.
So at the end of this difficult year I am doing much, much better. This project has really given a sense of focus and purpose even though it is still quite small at this stage. The work we are doing is tangibly helping 36 women in the studio. The support is there and visible and that is very motivating. There's great potential to grow much further and help even more people.
A lot of projects and creativity came out of the shock of the explosion. At first there was a lot of shock and denial, people insisting they were fine and emphasising how lucky they were. This was then followed by anger and demonstrations. Then a couple of weeks later people were feeling really driven to fix the place and support each other, all on their own, there was no support from the government.
Since the protests in 2019 the situation in Lebanon was just going from worse to worse, people kept asking what was next? Whether due to accident or corruption what was coming next? And the explosion was what came next…'
What have been your keys to keeping positive during this time?
'The main thing has been moving in with my grandparents in the mountains in Switzerland since just before Christmas, it has been so soothing. Grandparents have been through it all, they have such a relaxed attitude to life and that perspective and energy really seeps in. It has been very restful. The time here has also been such a period of construction in terms of Alsama. Despite everyone in our team being in different places around the world, I think it has actually turned out to be a more productive, connected, communicative time. We feel focussed and are able to have the space to plan ahead.'
Where is home for you?
'London 100% feels like home, it's where our family home is, it's where I studied, went to primary school… I went to Central Saint Martins and Falmouth, so I do a lot of creative projects in London with friends from there which feels great. I do also feel very Swiss and Austrian, being here in the mountains has reminded me of that. It is a small village, the opposite of London in a way, it is revitalising and remote which is nice.'
Mountains have an incredibly restorative power I think… 
'Yes! Do you know the book The Magic Mountain by Thomas Mann? That is based on this area… there are lots of run down Belle Epoque hotels which used to be for convalescence. So there is a feeling of nostalgia and the remnants of that energy. I read that book in Beirut and felt desperate for the setting and atmosphere of the mountains.'
You were very quick to think of solutions to help in the wake of the explosion in Beirut last year, what first actions did you take?
'I managed to crowd fund £30,000 immediately for my tailors, my studio collective and Alsama. This was what spurred me on to think of the easiest, simplest way I could continue to help. So I asked my close friends to give me their shirts and jean jackets with £100 to just to see whether this would work. I went out with my father Claudio von Planta, a documentary film maker, who took amazing footage, to drop off the money we'd raised and to see the studio. I also wanted to see my friend Rym Beydoune who had been really badly injured in the explosion, with 12 fractured vertebrae, 5 broken ribs, a punctured lung and exploded spleen. She and her boyfriend had been in a shop trying on Yamamoto shirts, as it happened, and had to take three rickety old buses to try and get to the hospital. Her boyfriend, who had himself torn his Achilles tendon, nearly lost his eye from shattered glass to the head and had two broken bones in his leg was on pure adrenaline just knowing he had to get her there. Eventually they got to the hospital and she had to wait in the car park on a broken piece of wood. The moment he realised she'd be ok, Reda (her boyfriend) immediately proposed to her!'
…what a beautiful story! 
'So that trip had been a time to really just touch base with Beirut, take footage on the camera and see how the situation was developing there. I also wanted to see how we could spend the money we had raised. I think stability is the main thing, I wanted to make sure they had work and that they were paid in dollars which is more reliable than the Lebanese Lira. There will be constant work coming, that is the assurance I wanted to provide. In terms of up-cycling it is an easy model as my work is purely operational, it's about getting people's clothes to Alsama. For a long time I wanted to do some sort of pret-à-porter up-cycling work but it is so difficult and time consuming to find a model that works. It is very labour intensive and expensive and a lot of factories are simply not set up in a way to do this. It had been in my mind for so long thinking how can we scale up, and Alsama is how we can, it felt very exciting to think that out of the explosion came this light bulb idea.'
It is a wonderful idea and a lot more collaborative as a process. You are putting some of the responsibility in the hands of the consumer which encourages them to be more proactive and consider their choices more carefully, as well as reducing labour intensity from your own supply chain. Plus this takes away the huge issue of the assumption on the consumer side that you can simply return something straight away if it's not quite right. 
'Yes exactly, there is a huge problem especially now after Brexit in that online shops and retailers have so much sent back because it didn't fit and there's this awful standard that so often items get burnt or chucked away because processing them and putting them back online is too much effort and not worth it. Here, you send your piece of clothing that you already know fits you and one woman works on it. She dedicates her time and highly refined craft into your beloved item of clothing and you don't know what you'll get back so there's that lovely element of surprise. If you're purely looking at it in a business way, it resolves a lot of the current problems in the fashion industry.'
Yes this offers solutions to so many issues from efficiency, to challenging consumer cultures, to tackling the landfill and waste problems… 
'Sasha, one of my team members, is currently in Kenya where so many of our unwanted clothes are sent and it is flooding the markets there which also therefore drastically undermines their local textile industry. Mountains and mountains of stuff being sent off to other countries.'
And there's the issue of all the toxins and micro-plastics of the clothes that will be polluting the systems of countries they end up in.
'Yes exactly, for me up-cycling feels like the best and most logical way to reduce waste and damage in the fashion industry. I have so much respect for all the exciting innovation going on but this feels like the clearest, simplest solution whilst also providing employment security and protecting the local crafts of skilled artisans.'
How did you get into sustainable fashion, what has been your journey with fashion and creativity? 
'I think we grew up with a very strong sense of sustainability, throughout my education and childhood there was an emphasis on that. Then when I went to Falmouth, everyone who studied there had a strong connection with nature because of our surroundings and being by the sea. When I got into Saint Martins, when you begin they tell you to go buy your fabric from Goldhawk Road and I just noticed the fabric quality was terrible and expensive! My family actually has a textile mill in Austria and so we have all these old, precious fabrics which are carefully stored. My grandparents eventually let me use them, saying that our generation doesn't know how to look after things, when I was eventually allowed to use them I decided I wanted to make something special with them. So I made my whole final collection out of clothes from my grandparents and great-grandparents, things they'd owned or brought back from trips. I just noticed the quality, how precious they were, each one had a story attached to it. People who were in my family who I'd never met. For me, suddenly I noticed there was an added value to the piece, it comes from somewhere, there's history in it. Then comes the point when you have to take that first cut into a precious textile which takes you out of the mindset of nostalgia and brings you back into the present- forcing you to think, how can I take this forward now?'
How amazing, and that touches on so many points. I agree that being handed down a piece of clothing that's been really loved and cared for makes you respect the importance of valuing things to make them last. It also makes me think of the inherited traditional crafts used in the Alsama pieces, these customs have been handed down and cared for over generations and generations. 
'It is lovely to be able to maintain but also keep developing that craft. In textiles, you study a craft that has existed for a long time. You get to know it very well. Especially with Palestinian embroidery, it is very powerful. I was initially drawn to it, in the old embroidery up to 100 years back, all the dyes were natural dyes made from location-specific agriculture and the motifs would be reflective of a landscape and stories that come from a specific place. So if you are abroad or in a diaspora you would recognise where people come from from their clothing, for example often in camps people's region can be identified from the embroidery and dyes of their clothes. It is an incredibly powerful form of embroidery, and I believe still has a huge amount of potential to grow and be understood. I find the weight of history and storytelling with it fascinating and personal.'
Yes just like languages, traditional customs within cultures need to be protected and preserved in the face of pressures from globalised consumer markets. What are the particular areas within sustainable fashion that interest you most? 
'Definitely textiles, versatility and diversity within this huge field. I always enjoyed problem solving. I was really inspired by the idea that you have this one beautiful hand-printed, hand-loomed tied silk dress. You have two and a half metres of material, and what do you do with it? I just love that challenge, thinking of ways to revive these pieces. How can we take this forward and make it useful again rather than leave it sitting in a cupboard? I like to think whoever owned it in the past would be happy with my bringing it to life again. I really enjoy having those restrictions, but using that to stir on creativity.'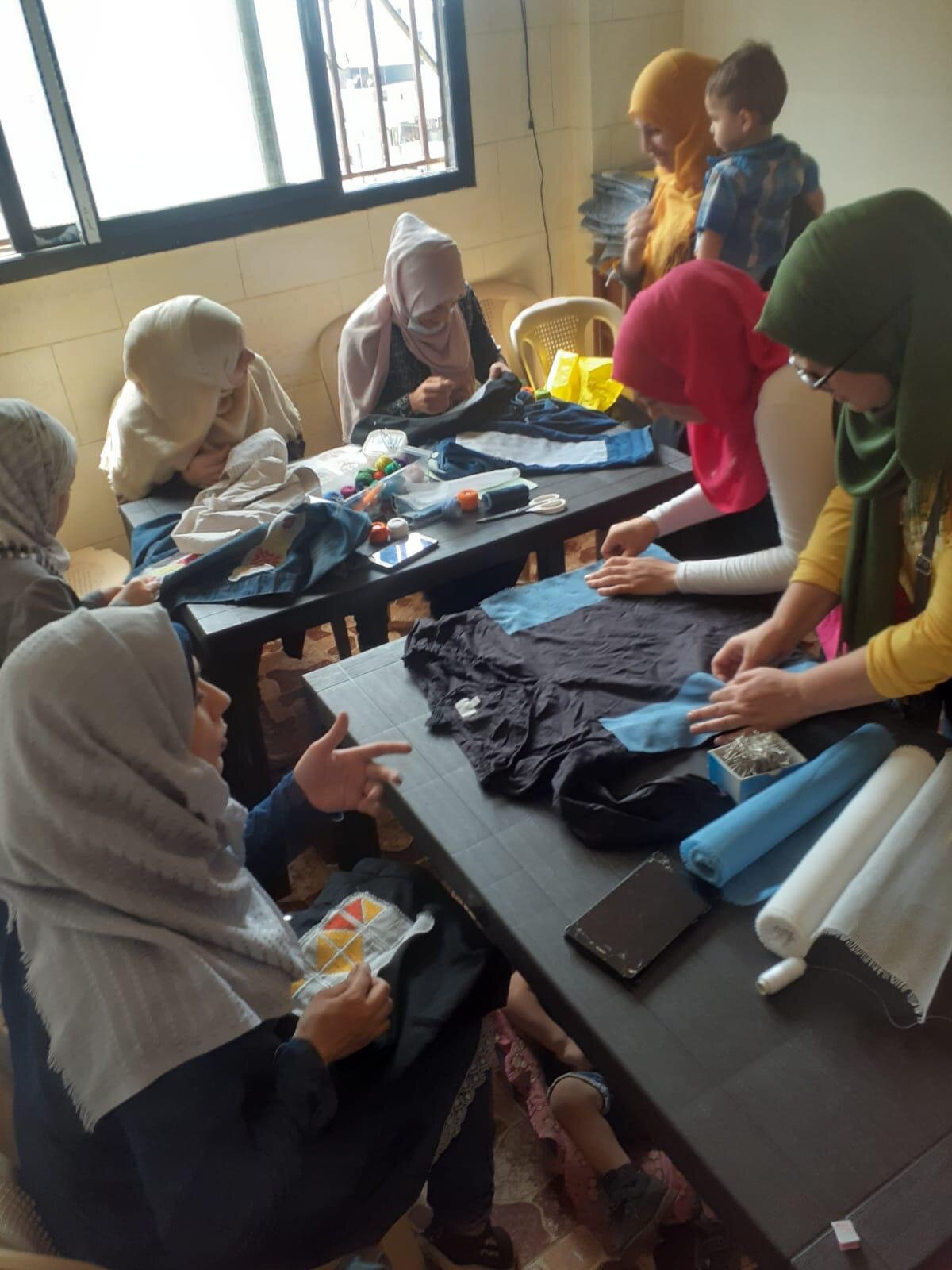 Alsama project in Beirut
What brought you to Beirut? 
'In 2020, I had a placement year from University so I went to Vienna and São Paulo and then my friend Rym, who I studied with at Saint Martins, asked whether I wanted to come to Beirut at the end of my year for a month to help with a project she was doing and I jumped at the opportunity. It was August, it was incredibly hot, there were the 'You Stink!' protests happening which were anti-corruption protests at these huge piles of rubbish all around Beirut because of mis-management. Despite that I immediately fell in love with the city. It's a very inviting city, day one you make friends, it's a very warm place where you're very quickly taken along. In Vienna it had taken me longer to settle and make friends so the contrast was amazing. It feels dynamic, I was fascinated by all the energy coming out of it. I was approached by INAASH who wanted to refresh what they were doing and another called Bokja. I returned after my studies in the UK to see whether these things would turn into anything which they did slowly but surely. I started doing my first commissions, and on the back of that, I felt like I could make it work, starting my own small atelier. Then I found The Mansion, which was this incredible studio space in an old villa in the heart of Beirut. Full of charm, crumbling but beautiful. Strong sense of community, creativity, such dynamism. It had a very pleasant, happy pace. I was really taken into that community. It was very touching how welcomed I was.'
That sounds wonderful, are lots of your friends still there? 
'Well… they decided they would stay to ensure the collective was safe, it's a very precious community which is very rare. It was a hub of culture, filled with amazing artists and designers, they hosted lectures and so on. So whilst it is certainly difficult, they are committed to protecting it.'
What are some of your favourite things about Beirut? 
'Whilst I was there, I think it was the social life, the night life, the fact that everything is quite late. You could work until 9.30pm and then spontaneously make a plan and meet somebody in a bar or restaurant. I love how you can be late! It was so pleasant and relaxed. Being on the beach with grilled fish and arak, summers there were heaven. My studio space was such a treasure, all the people I met there. I think mostly though, it's the friendships, life long friends who will be with me forever. I had such a lovely flatmate. Very special memories, very dynamic place, a night out can start in one place and end up in no idea where. Sadly the mood there right now is pretty down, it is such a social place so lockdown and restrictions really lowers morale.'
This all sounds sublime, especially after a long Winter in the UK! I am sure that energy will return… 
'I hope so, I think it will come back, I just wonder what passages the country will have to go through to get there.'
Well you are certainly playing a positive part of that process through this project. How did you come to meet the Alsama Studio in Beirut? 
'I met them in 2019, the studio had just opened and they didn't know how well it would work. Mike Ziervogel had just left an NGO where she was working to work on Alsama Studio, she took a risk to start up her own thing. We were the first commission the studio had, it was an up-cycling project with The Pink House Mustique, a beautiful swimwear company. They had lots of dead stock and so we embroidered them, a lovely collection of 13 shirts. They (Alsama) are so reliable, they price in advance and are ready to get on with it. They are such a good team. They have very high standards, so they are a pleasure to work with.'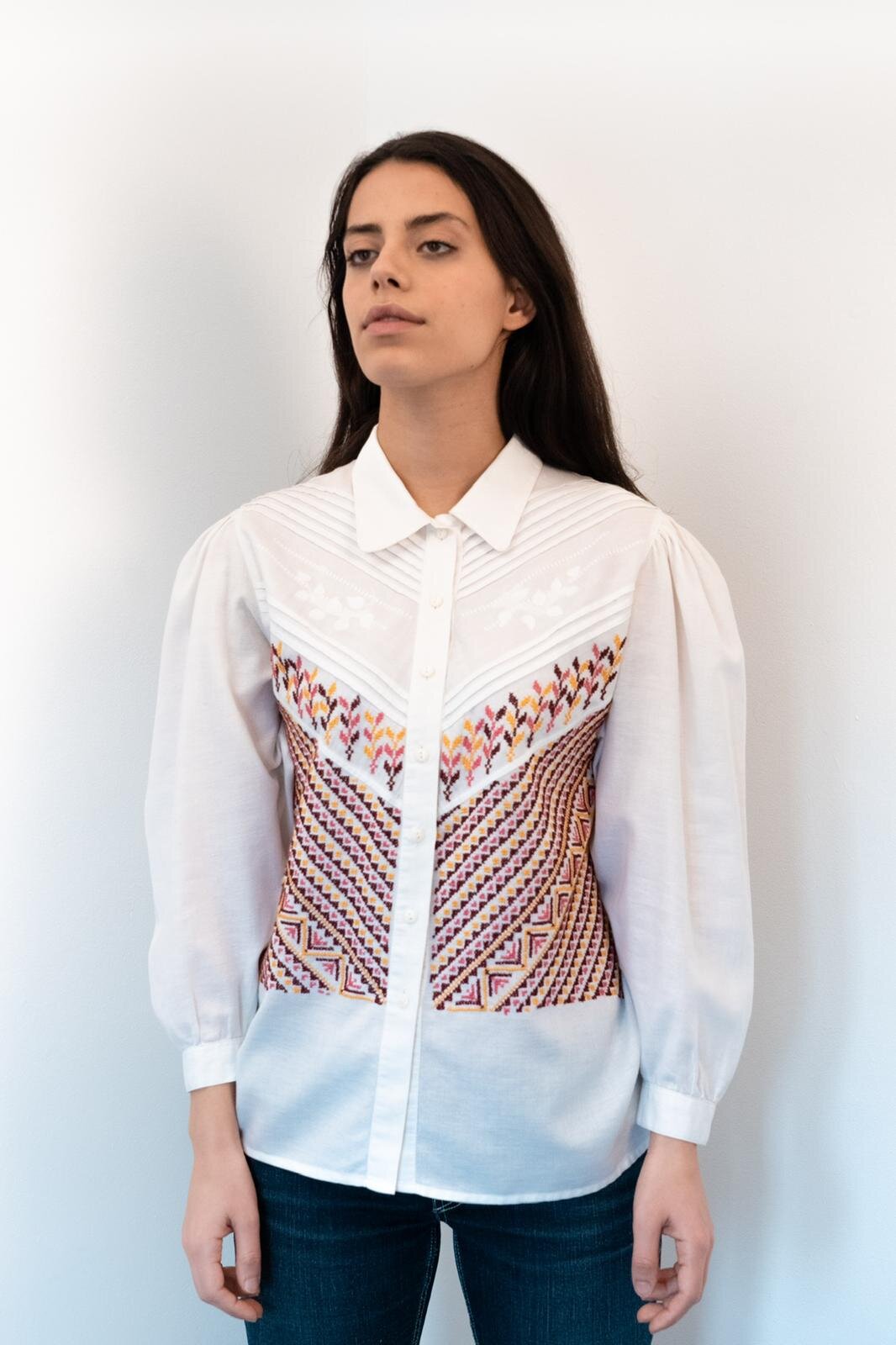 What were your initial thoughts when beginning the LVP x Alsama project?
'After the horror of the explosion, I like so many others questioned what I could do. I realised provision of work was one of the most obvious solutions. So that is when I began asking friends for their clothes, got them embroidered, agreed on pricing, and it went quickly from there. The first collection in August we had 36 items, since them we've collected 200 items, and through all this the studio has received $5,000. Out of shock comes a purely practical, pragmatic response.'
What do you see LVP x Alsama growing into?
'I'd like to take this further, get more people to send their clothes to be embroidered. It's simple really.'
Is there a favourite item or memorable piece that sticks out for you and why?
'For me, there was one moment, when all the items came back around Christmas time. Each piece was a total surprise, there were some that just really stood out. You can tell that the person working on it was really inspired. This one amazing beach dress we made for Mel Giedroyc and that came out so beautifully. We did a bit of research and saw that she wore a lot of reds, pinks and warm colours so we focussed on that. I love it when people give us colours that they love so we explore that. That's what I find so touching about craftsmanship, the amount of time and love that goes into each piece.'
How can the fashion industry continue to revolutionise the way it works to better protect its workers and the planet?
'I look at it from the very specific angle of up-cycling, I have this view that if tomorrow we decided not to make any more clothes we'd be absolutely fine. However I realise how huge this industry is and the amount of jobs that would be at stake, compounded with the climate crisis and all these other pressures. I would love to see more ways of reducing production involving newly made materials, and more people thinking about how growth can come from that. You need to keep people in work and provide stability, so we need to be reworking and transforming systems that already exist. Up-cycling could provide a lot of work I think, there's so much potential on different levels to offer work in new forms.'
…if you could wave a magic wand? 
'I would like people to think more critically about what is being sold to them, to demand better products. To be less enchanted with fast fashion and more so with the transformation of existing systems into safer and better places to work, retraining people in traditional crafts from their local areas and therefore upscale our Alsama model to a replicable and sustainable model around the world. We all love new items, but if that could be reduced to one or two things a year and more treasured, better made and longer-lasting – that would be my vision.'
What are you most inspired by at the moment? 
'With regards to the project: colours and colour theory I find really exciting. I'm also looking at different crafts and finding absolute treasures. Even here in the Engadine Valley I found a great-aunt of mine who crochets to a very precise and fine level- to discover people who really practice a refined craft is wonderful. There's also a lot of monasteries who produce their own things, so discovering these unique crafts and considering how we could work with them that is something I find really inspirational now… I think of course another big thing is thinking about how we can make this a good business and continue to develop the concept of Alsama- that is my big passion at the moment.'
Any books, podcasts, films or music you're loving at the moment? 
'To switch off I listen to Seven Deadly Sins by Stephen Fry, he looks at the seven deadly sins but brings them into modern context, analysing why we sin and how we do it and it is so brilliantly written and put together I honestly enjoyed it so much. That's been my biggest enjoyment lately.
Then I love going through the Desert Island Discs Archives, more than the new ones in fact, and one of my favourites is Nile Rodgers of Chic. His life story is incredible, so inspiring and touching. He is such a dynamic and positive guy, a real joy to listen to. He had a really tough childhood and overcame adversity to have the most phenomenal career- he is so driven.'
… and which have inspired you most throughout your life? 
'The Chess Player by Stefan Zweig, the way he tells stories, especially in short form. My mum introduced me to him when I was young and he is such an amazing writer. That's the most important one for me I think.'
—
Please visit Larissa's website and Instagram @lvp_x_alsama to see how you can get involved with the Alsama Project and send off your items of clothing to be up-cycled.