Did you think that the Mediterranean Diet was the only way to eat healthily and guarantee well-being? 
Well, you might have to change your mind. Among the nutritious and healthy foods that the European Union would like to bring to the tables of Europeans, in fact, there are also foods that go beyond the traditional food pyramid: yellow flour worms, domestic crickets and migratory locusts. 
If you missed the detail, the EU Commission will remind you with a captivating post on its Twitter profile. 
But don't worry, if you are not yet ready to nibble on a nice fried cricket in a pan with Evo oil, you can try it in powder, dried, or as an ingredient in packaged foods. The important thing, they explain from Berlaymont Palace, is that you know that the trade of all these species has finally been authorized in the European market and that moths, locusts and crickets have entered the list of "novel food". 
This is the case for novel foods or ingredients covered by Community legislation.
"FAO indicates that insects are a very nutritious and healthy food source,"
reports the Commission. "They contain good fats, protein, vitamins, fibre, and minerals that can facilitate the transition to a healthy and sustainable diet". As if the Mediterranean, which has become a UNESCO intangible heritage site by no coincidence, was not enough.
I mean, trust me, "Eating bugs is safe". Moreover, insists the EU executive on Twitter, "the use as an alternative source of protein is not new and they are eaten regularly in many parts of the world". The EU Commission also points out that there are no health risks: "Novel foods may only be authorized if they do not in any way harm human health and are subject to a scientific assessment before being certified for safety". Of course, they clarify from Brussels, "it is up to you to decide whether to eat them or not".
Know, however, that by eating larvae and locusts you will also help the environment. They emit fewer greenhouse gasses, there is less waste of water and cultivated fields, and food waste is reduced. "Are you ready to try them?" asked the Commission. But the answers are far from enthusiastic. "Is this the Europe we dreamed of? Try the bugs, I will continue to enjoy the Greek dishes", writes a user. Someone else is asking whether we are preparing for famine and many are asking President Ursula Von Der Leyen and the Members of the European Parliament to sit down first before a plate of grasshoppers.
But there are also those who warn about the possible pathologies that could develop with the consumption of insects: from cancer to respiratory diseases. Most, in short, refuse the invitation and say they want to keep their eating habits. 
So, eating insects may be a bit weird, but we are here to break that taboo. Especially because, besides having a minimal carbon footprint, edible insects are highly nutritious and are eaten by more than 2 billion people. 
Crickets are so nutrient-dense and rich in complete protein, vitamins, essential fatty acids, natural antioxidants and minerals that, gram for gram, they contain more iron than spinach, more protein than beef, more vitamin B12 than red meat, more calcium than milk, more omega-3 than salmon, more fibre than brown rice, more potassium than bananas and all 9 essential amino acids. Shouldn't we call them a sustainable superfood?
Another article you might like: Solar and portable distillers can purify water anywhere in the world
They Are:
High in Protein
Their protein content is about two to three times higher than red meat. Crickets, containing all the essential amino acids, are a complete protein source- the building blocks of protein that we can only get from what we eat. 
High in Vitamin B12
Vitamin B12, besides being crucial for a healthy immune system and brain, is also involved in the formation of red blood cells and helps to create and regulate DNA. So it is highly recommended to boost your body's defences and may also improve your mood. That's because this vitamin plays a vital role in synthesizing and metabolizing serotonin, a chemical responsible for regulating mood. Getting enough vitamin B12 through your diet is crucial, especially if you are trying to reduce meat as it's not present in plant-based food (unless it's artificially added).
Sustainable
What's the biggest problem we are facing as humankind? Global warming. What's a significant contributor to climate change? Jonathan Safran Foer has no doubt: "Animal agriculture makes a 40% greater contribution to global warming than all transportation in the world combined." So, if you had in your hands a protein source that requires only a tiny fraction of all the natural resources needed to produce traditional protein sources, that can be fed on bio waste, that can be farmed vertically and almost everywhere; would you start to consider it as food?
Global Popular
More than 2 billion people around the world eat insects as food in different ways, it depends on where you are. Mexicans eat "chapulines", Colombians snack on "hormigas culonas", and the Thai munch down on crickets, ants, and water bugs. 
Palm weevil larvae are eaten in Nigeria, Papua New Guinea, and Malaysia. In Japan, the wasp larvae called "hachinoko" are cooked in soy sauce and sugar and eaten as a crunchy snack. 
People eat insects because they like them and because they are nutritious food high in protein, fats, minerals, and vitamins. 
Besides being famous people, Angelina Jolie, Zac Efron, Salma Hayek, Shailene Woodley, Nicole Kidman, Robert Downey Jr. and Justin Timberlake have in common that they love insect protein.
Even top chefs all around the world such as Carlo Cracco, Alex Atala, René Redzepi include insects on their menus. 
Another article you might like: Biodiversity Loss Is Our Loss Too
They allow for..
Few Greenhouse Gas Emissions
If cattle were a country, they would rank third in greenhouse gas emissions competing with the United States for second place. Cattle already have a dreadful impact and if the demand will continue to rise at this rate we won't keep pace with it. One-third of the planet's arable land and one-fourth of all freshwater is already used by the livestock industry for growing feed and for grazing cattle. The good news is that crickets produce less than 0.1% of the greenhouse gases that cows produce. Eating insects also means not emitting any methane at all. By the way, 1 ton of methane corresponds to 25 tons of CO2.
Less Water Consumption
Crickets require only 20% of the water that cows need to produce the same amount of protein. Taking into account the huge amount of water needed for forage crops, cows require a staggering amount of water. Insects obtain hydration directly from food and use significantly less water than vertebrate livestock! Also compared to vegetables, they are much more efficient thanks to their incredible protein content. 
Smart Land Use
One-third of the planet's arable land is already occupied by livestock feed crop cultivation. According to the FAO report, each year, 13 billion hectares of forest area are lost due to land conversion for agricultural uses such as pastures or cropland, for both food and livestock feed crop production. Traditional livestock is a major threat to biodiversity requiring immense portions of land that often is obtained by clearing the forest. Farming insects is a more efficient alternative, by far, as they can be farmed vertically and almost everywhere – people can farm them in their kitchens, using food waste such as fruit and vegetable scraps.  
As far as I am concerned, already in 2018, my curiosity led me to try them in Krabi, Thailand, in a street food market that had nothing reliable. Yet, in addition to not having any physical consequences, I found them very delicious: crunchy, tasty and they even remembered French fries!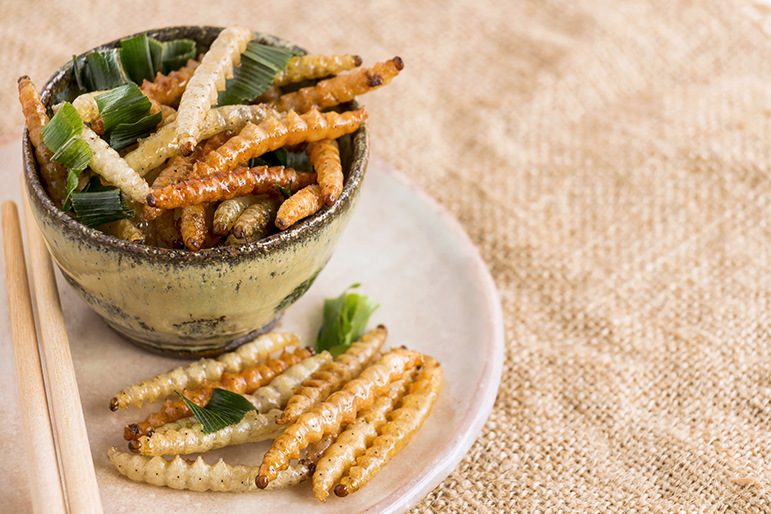 So, what are you waiting for after being advised by an Italian?