United Kingdom's new Prime Minister Liz Truss has appointed Jacob Rees-Mogg as the UK's new Business and Energy Secretary. Jacob Rees-Mogg is easily one of the UK's most recognized politicians, from his work campaigning for Brexit to his controversial beliefs on climate actions.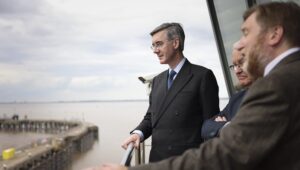 The appointment of Jacob Rees-Mogg is certainly a bad sign for the UK's fight against the looming climate crisis and signifies that this new conservative government has no intentions of making climate change and sustainability a priority for their rule.
Who Is Jacob Rees-Moggs?
Jacob Rees-Moggs is a seasoned British politician of the Conservative party. His policies on Brexit and  have been considered controversial, however, it is his views on climate change, particularly in his new position as Secretary of Energy which is even more alarming. Rees-Mogg has been flirting with climate denialism for the past decade.
In 2013, he made a false claim that the effect of rising carbon dioxide emissions on the climate "remains much debated", despite the Intergovernmental Panel on Climate Change issuing a 1,500-page report on the impact of rising CO2 emissions a month earlier. Then again in 2014, Rees-Mogg stated that humanity should adapt to climate change "rather than going back to living in the stone age by reducing people's use of energy".
"I would like my constituents to have cheap energy rather more than I would like them to have windmills."

– Jacob Rees-Moggs 2014
More recently, in his new appointment as the Secretary for Business and Energy, he has stated that he intends to solve the UK's energy crisis by extracting "every last cubic inch of gas from the North Sea" as well as bringing back fracking.
What Does This Mean for the Climate Crisis?
"Rees-Mogg is the last person who should be in charge of the energy brief, at the worst possible moment," said Rebecca Newsom, head of politics for Greenpeace UK. "This will either be a massive own goal for Truss's efforts to tackle the cost of living crisis or Rees-Mogg will have to do the steepest learning curve in history as he gets to grips with the issues facing our country."
The fact that Lizz Truss has put the future of the United Kingdom's energy in the hands of a climate denier is truly frightening. Rees-Mogg's approach to the energy crisis is completely unsustainable and brings the United Kingdom further and further away from its goal of reaching zero carbon emissions by 2050. It is Ree-Mogg's ambition to continue to support capitalism and his friends in the fossil fuel industry rather than the greater good of the planet.
Another Article You Might Like: Big Oil Is Thriving, The Planet Is Not
We know that tough times are ahead, particularly this upcoming winter. However, we must not allow the energy crisis to completely influence our decisions which are only beneficial in the short term. Renewable energy and sustainable living are the only ways we can move forward.