Reading Time:
2
min
As if 2020 wasn't turbulent enough, the cursed year has set historical records in the number of hurricanes, tropical storms, and typhoons. By November, 29 storms, 12 hurricanes, and 5 major hurricanes have hit North America and the Carribbean—causing 320 fatalities and innumerable infrastructure damages. The last time the US faced a similar hurricane season was in 2005.
Are intensifying hurricanes a prelude to the climate chaos that will descend upon us?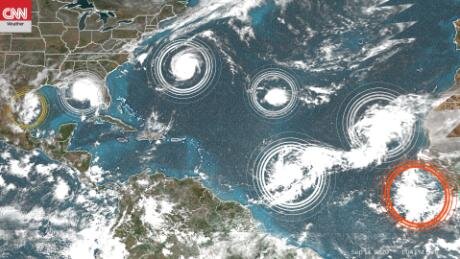 Here's a list of all the hurricanes  and tropical storms that are affecting the world in the last year:
Hurricane Eta
Hurricane Zeta
Nangka
Norbert
Delta
Chan-hom
Tropical Storm Arthur
Tropical Storm Bertha
Tropical Storm Cristobal
Troìcal Storm Dolly
Tropical Storm Edouard
Tropical Storm Fay
Tropical Storm Gonzalo
Hurricane Hanna
Hurricane Isaias
Tropical Depression Ten
Tropical Storm Josephine
Tropical Storm Kyle
Hurricane Laura
Hurricane Marco
Tropical Storm Omar
Hurricane Nana
Hurricane Paulette
Tropical Storm Rene
Hurricane Sally
Hurricane Teddy
Tropical Storm Vicky
Tropical Storm Beta
Tropical Storm Wilfred
Subtropical Storm Alpha
Tropical Storm Gamma
Hurricane Epsilon
Social inequalities are highlighted during climate disasters. There is a stark unfairness in climate calamities: whilst big corporations and idle governments are largely responsible for the crises their CEOs/political leaders enjoy stable conditions, whilst the impoverished majority have to endure the consequences of an unstable climate.
Donate to the following organization that are helping send aid to the affected populations of the hurricane: