Reading Time:
3
min

Mass strandings of pilot whales in Australian waters have been happening for the last decade. The reason why remains unknown to scientists. In 1996, 320 pilot whales washed ashore in Western Australia and in 2017 600 pilot whales beached in nearby New Zealand. This week's 470 pilot whale strand in Macquarie Harbour, Tasmania would be Australia's largest whale beaching in modern history.
Volunteers and rescuers have been working tirelessly in the cold waters. The refloating process involves as many as five people per whale wading waist-deep in freezing water, attaching slings to the animals so they can be guided out of the harbour by a boat. About 50 whales have been rescued this way, however there is a high likelihood that they will return, creating an exhausting loop for rescuers. During the NZ stranding in 2017 rescuers created a human chain to block the freed whales from returning.
After two days of a difficult and dangerous rescue attempt, state marine scientists said at least 380 of the long-finned pilot whales have died. Now the rescuers are looking into putting different plans in motion on what to do with the carcasses.
What are pilot whales and how do they behave?
Despite the misleading name, the long-finned pilot whale is actually a large dolphin—reaching up to four and six meters in length and weighing up to one tonne. They migrate through vast areas of the Southern Antarctic Ocean, using echolocation to navigate the complete darkness and to hunt for squid (echolocation uses the reflection of sound to find objects).
In order to fully understand mass strandings, one must realise the emotional complexity of whales and dolphin species, as well as their bond and loyalty to the pod as a whole. The bond is so strong and communal that as humans we can barely grasp it. An example of their emotional depth was documented when a pilot whale was seen carrying its dead calf for many days. Similarly, killer whales have showed strong social bonds within their pods, to the point that if a close member strands others will attempt to join in order to die together—which can explain why a liberated whale returns to the beached pod.
However, the mystery remains on the exact reason why. Here are some theories: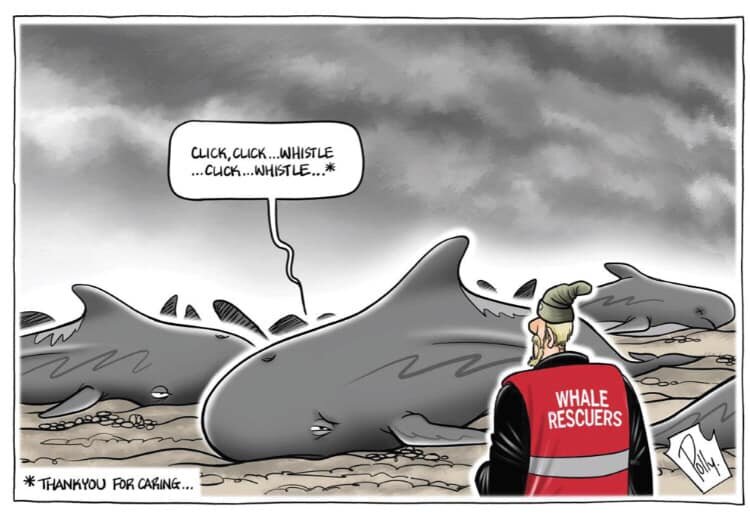 Theory 1:
Whales are very social creatures, always travelling in large pods. Sometimes, the leader whale can get confused and she might lead the rest of the pod to the shoreline, causing them to all strand together in solidarity.
Theory 2:
A change in the sea environment has lead them closer and closer to the shorelines, perhaps in search of food, like squid. Climate change shifts ocean currents as sea temperature rises—and with this squid availability is changing.
Theory 3:
Changes in electromagnetic fields that disorient them when they are using echolocation are causing them to reach the shore. This change in the field can be caused by naval sonars and deep sea mining.
Sources: BBC, Reuters, The Conversation